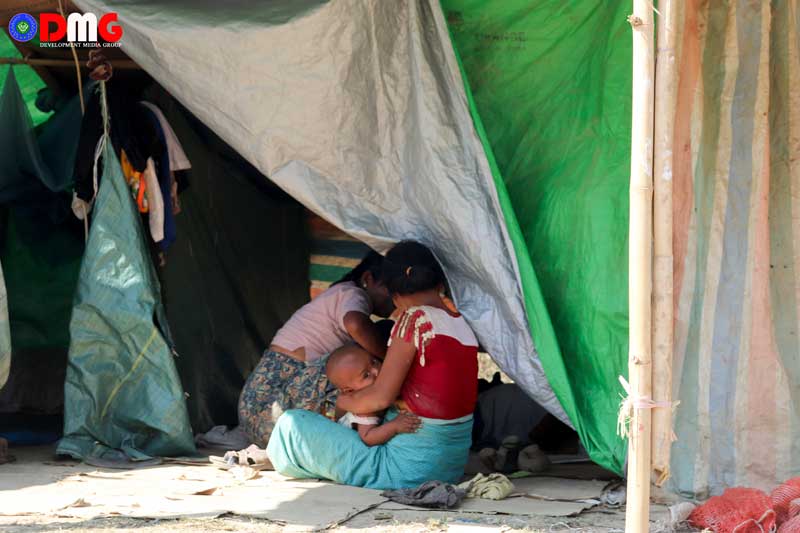 Hnin Nwe | DMG
April 2, Ponnagyun

More than 2,000 people have recently fled their homes in Ponnagyun Township due to fighting between the Tatmadaw and the Arakan Army, according to people providing support to those internally displaced (IDPs).

Ashin Thabarwa Nadi, who assists IDPs, said clashes occurred near Pauk Taw Pyin village on March 28, leaving one civilian dead and three others injured. Fearing for their lives, other residents of the village fled their homes.

"No one is in the village now — they all fled from their houses since the day a person was killed and three were injured," Ashin Thabarwa Nadi said.

The Pauk Taw Pyin residents sought refuge in other villages, including Zaydi Pyin, Than Chaung and Kyauk Pyin Seik, where they are sheltering with relatives or others willing to take them in.

"We are sheltering people at Zaydi Pyin village at the moment. We [a group of monks] are arranging accommodation and food for them," Ashin Thabarwa Nadi said.

Ko Thurein Oo, who fled from Pauk Taw Pyin village, said food and accommodation are in short supply.

"At the moment we have food from relatives and other households from neighbouring villages. Accommodation is also a problem. The houses are only large enough for four or five family members to stay. When we also stay with them it is too crowded," he said.

The Rakhine Ethnics Congress (REC) stated on March 31 that the number of IDPs in Arakan State had risen above 150,000 due to ongoing conflict between the Tatmadaw and the Arakan Army. Many are struggling to meet basic needs such as food, clothing and shelter.