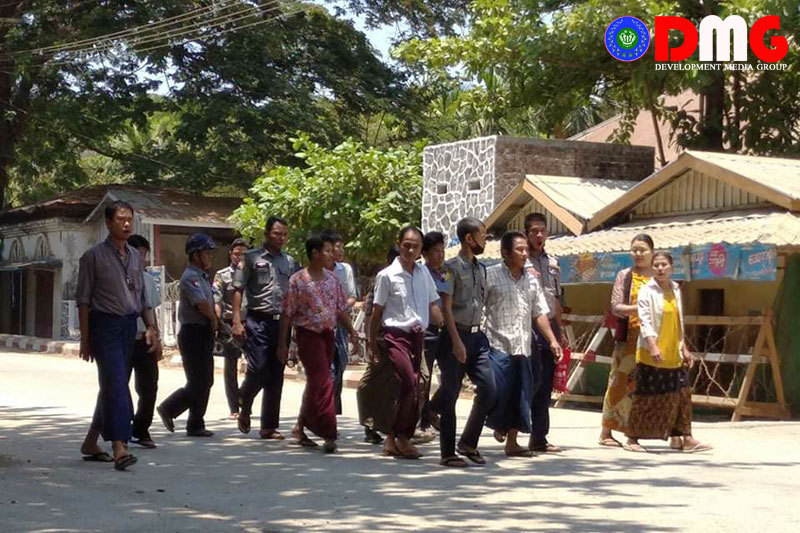 Myo Myint Zaw | DMG
13 May, Taungup 
Five men from Sar Pyin village in Taungup Township were charged under Section 52(a) of the Counter-Terrorism Law at the Taungup Township Court on May 11. 
Major Myint Zaw Aung filed a lawsuit against the men at the Lamu police station, alleging that they had ties to the Arakan Army, said U Tin Nyo, a lawyer for the five defendants. A court hearing has been scheduled for May 22, he added. 
One of the five accused, U Pyone Cho, is chair of the Arakan National Party's Sar Pyin village chapter, according to local residents. 
"We were released for the first lawsuit. And, we have been charged under another lawsuit," said U Pyone Cho. 
The five men — Ko Pyone Cho, Ko Than Naing, Ko Aung Htoo, Ko Maung Myint Aung and Ko Hla Phyu — were initially arrested on April 5, accused of affiliating with the AA. 
That case was dropped on May 7, with the Taungup Township Court citing insufficient charging evidence, but about an hour after the court's decision, police re-arrested the five men on suspicion of involvement in a bomb blast. 
According to Section 52(a), the defendants could face three to seven years' imprisonment if they are found guilty. 
A case was also brought this week against the vice chair of the Arakan National Party for Taungup Township, U Wai Thaung, and two others under Section 50(a) of the Counter-Terrorism Law.