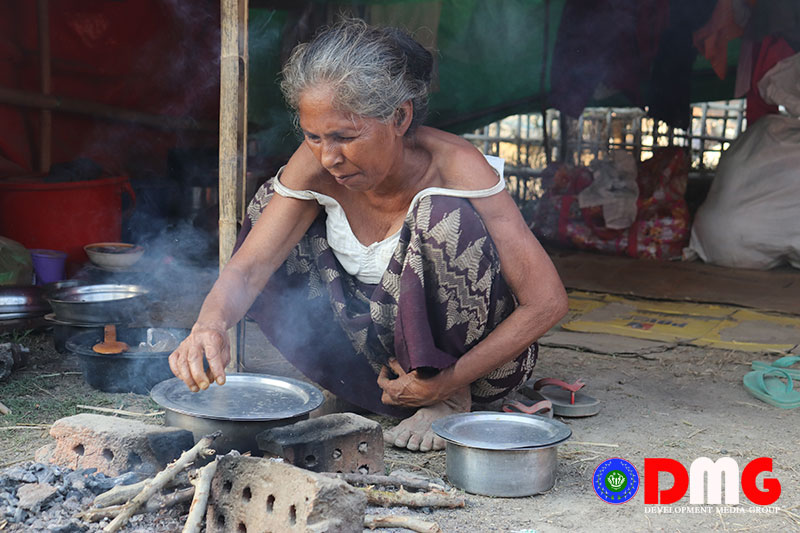 Myo Thiri Kyaw | DMG
21 May, Sittwe

More than 800 IDPs who had been sheltering in Rathedaung town are returning to their homes in Kyauktan village to cultivate farmlands, and were spurred to leave the displacement camp in part out of fear that crowded conditions there left it susceptible to COVID-19 contagion.
"From my family, only I returned home. I will have to do cultivation on my farmland. We are sleeping at night worried whether soldiers will enter the village," said U San Hlaing, a resident of Kyauktan village.
Some villagers said that upon returning to Kyauktan, they found their houses and shops had been broken into and items were taken.
Despite the return of hundreds to their home village, other IDPs are staying behind for now, worried that the regional instability that first displaced them will flare again.
"They returned home because the region is stable now. I am worried for them, that new clashes will occur in their region," said Ko May Yu Tun, a member of the May Yu Young People Charity Group.
Kyauktan had 540 households with more than 3,000 people, all of whom fled the village in April 2019 after a Tatmadaw contingent entered the village and carried out a mass interrogation.
The Tatmadaw questioned 275 men from Kyauktan village on April 30, 2019, at the village school building. A riot broke out during the affair and six of the detained villagers were killed, while eight others were injured. Two of the injured later died while receiving medical treatment.
In the aftermath of the incident, Kyauktan's residents fled their homes, taking shelter at IDP camps in Rathedaung, Kyauktaw and Sittwe towns.