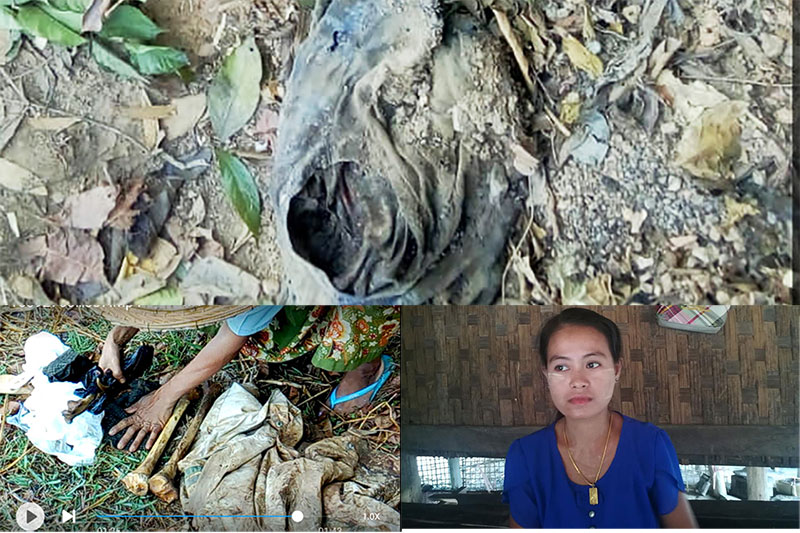 Hnin Nwe | DMG
27 May, Minbya

Family members want authorities to investigate the deaths of five people whose bodies were found in shallow graves last month in Arakan State's Minbya Township.
Three men from Min Ywar village in Minbya Township — U Than Kyaw, 48, U Saw Hla Tun, 50, and U Than Tun Aung, 50 — went missing on March 24 after they left home to cut wood in a nearby forest.
Their bodies were found in a shallow grave at a valley west of Taung Pote Kay village on April 23, said Daw Than Nyunt Yi, the wife of U Than Kyaw.
"Their bodies were found one month after they went missing. Two bodies were in a pit and another one was found in a separate pit," she said.
Meanwhile, U Maung Than Myint, 45, and U Win Manung, 32, from Thin Pone Chaung village were found dead in a shallow grave at Kyet Yet Saydi Mountain near the Yangon-Sittwe road on April 26, family members said. They had been missing since January 7 after they set out from their village on a motorbike to tend to a fishing farm.
"We did not see that they were arrested by the Tatmadaw. But the place their bodies were found is the area where Tatmadaw troops are stationed," said Daw Nyein May, the wife of U Maung Than Myint, explaining why some family members suspect the involvement of military personnel in the men's fates.
Family members reported the missing persons cases to the Arakan Human Rights Defenders and Promoters Association but there had been no breakthroughs until their bodies were discovered last month.
U Myat Tun, director of the association, said the cases were also submitted to the Myanmar National Human Rights Commission seeking a probe into their deaths, but there had as yet been no response.
"Family members reported missing people. One month afterward, they complained about their finding of the bodies of the missing people. I reported the case to the Human Rights Commission, but it cannot do anything against the military. So, I cannot help them anymore," he said.
DMG sought comment from Tatmadaw spokespersons about the five villagers' deaths, but they could not be reached.
Civilian casualties and arrests have been a recurrent feature of the ongoing conflict between the Tatmadaw and the Arakan Army, which has also displaced more than 164,000 people.