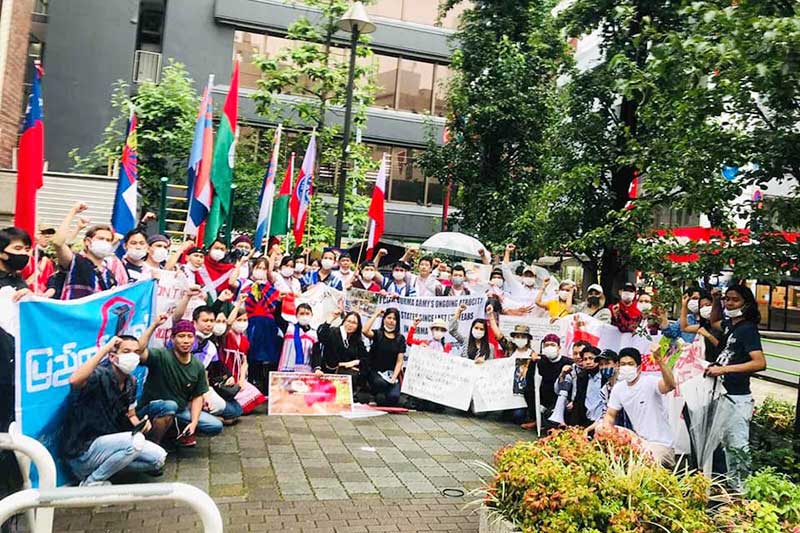 Win Nyunt | DMG
23 July, Sittwe

Ethnic Myanmar nationals in Japan staged a protest in Tokyo on July 23 calling for truth and justice over the unlawful killing of civilians by the Tatmadaw in ethnic parts of Myanmar.
Arakanese, Chin, Karen, Shan and Mon people participated in the protest organised by the Arakan National Democratic Party-Japan, the Overseas Karen Organisation-Japan and the Kachin National Organisation-Japan.
"The Tatmadaw has sexually abused ethnic women. There are also violations of human rights. Civilians were unlawfully killed. We protest to get the truth about such cases," Ko Bone Myint, chair of the ANDP-Japan, told DMG.
Among the violations highlighted by the protesters, a woman from U Gar village, Rathedaung Township, was raped by three Tatmadaw members and protesters demanded that the truth be revealed in the case.
Major-General Tun Tun Nyi from the Tatmadaw True News Information Team told The Irrawaddy news agency that a military investigation has been conducted into the three military personnel over the case.
On July 16, a woman from Po Lo Htar village of Dwe Loe Township in Kayin State was allegedly killed by two military members, who went on to rob her of her golden necklace and earrings.
On July 19, two unidentified men shot a woman with a pistol at Mar Baung village, in Kayin State's Hpa-an Township, injuring the left side of her body, the Tatmadaw reported.
Ko Soe Lin Sein, head of OKO-Japan, said: "Karen people were killed. So, I'd like to request to take action against the Myanmar Tatmadaw for breaching human rights."
OKO-Japan denounced the actions of the Tatmadaw in Kayin State, which the group said included destroying health check points for COVID-19 prevention that were established in Kayin State territory controlled by the Karen National Union's No. 5 Brigade.
Ko Dwe Jar, leader of the KNO-Japan, called for overthrowing dictatorship and getting to the truth behind the 2015 murder of two teachers in Kachin State allegedly committed by the military.
Protestors also called for restoring mobile internet in northern Arakan State and Paletwa Township in Chin State, providing humanitarian aid and safety for IDPs, abolishing the 2008 Constitution and redrawing a new constitution, and solving political problems through negotiation in order to achieve genuine peace.
They also demanded to revoke charges against journalists, to once again allow internet users to access currently blocked websites of local news agencies, and to ensure local and foreign correspondents access to information in conflict affected areas of ethnic states.