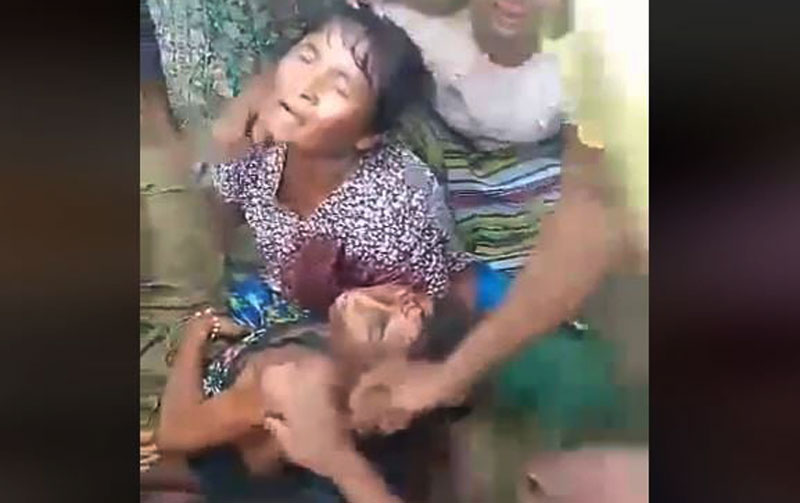 Hnin Nwe | DMG
1 August, Sittwe
Two remnant weapons of war exploded in Katchaung village, Rathedaung Township, at about 4 p.m. on August 1, leaving two children dead and four other minors injured, according to the village administrator.
The victims found the explosive remnants of war (ERW) while fishing near the village and brought it back to a residence in the village. It was there that they hit the ERW, causing the deadly explosion, said Kanchaung village administrator U Tun Hlaing.
"They found a heavy weapon shell in the creek while fishing and brought it home. When a pack of children hit the shell, it exploded due to the heat, killing and wounding them. One of the children died on the spot," he told DMG.
The victims, aged 9 to 16 years old, sustained injuries of varying degrees of severity, with 16-year-old Maung Nay Myo Lin dying on the spot. Maung Myo Naing Oo, 9, died on the way to Sittwe Hospital, the village administrator said.
Two of the four injured were sent to Gutaung Station Hospital and the other two more seriously wounded patients were brought to Sittwe Hospital for further medical treatment.
Government troops and the Arakan Army (AA) exchanged fire near Katchaung village last month, according to locals.
Khaing Kaung San, director of the Wan Lark Foundation, noted that one of the root causes of ERW-involved civilian casualties was a failure to raise awareness about the risks posed by landmines and other ERW.
"For example, it is necessary to share knowledge with local people not to bring objects that haven't exploded yet from the outside into the village. The pamphlets on the dangers of heavy weapons and mines should be posted even if officials aren't able to talk about mines and heavy weapons in person," he added.
Clashes between the military and the Arakan Army have flared with regularity in western Myanmar since late 2018, and the number of civilians killed or wounded by landmines, errant artillery fire or other combat-adjacent violence continues to climb.
Although the International Committee of the Red Cross and some civilian organisations are involved in landmine risk education programming, many rural communities affected by ERW have yet to be reached.