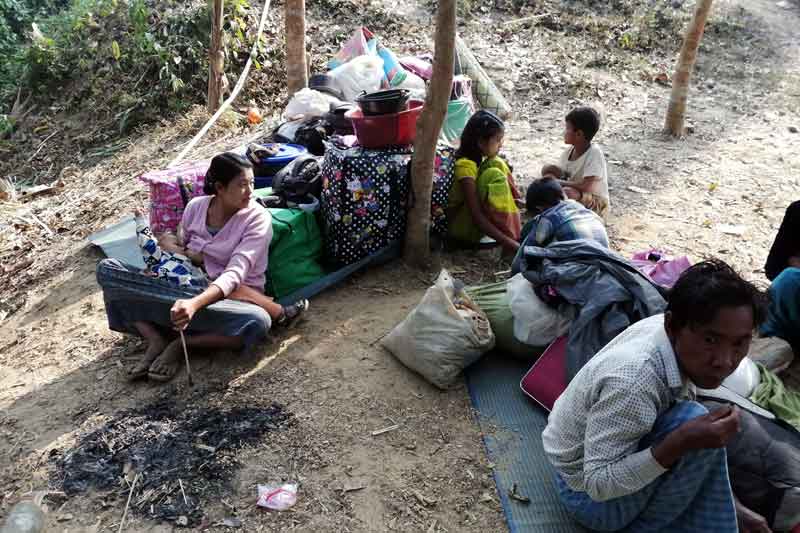 Kyaw Myo Aung | DMG
25 September, Buthidaung
Hundreds more internally displaced people (IDPs) have recently arrived at relief camps in Buthidaung town, Arakan State, after Kuntaing village was all but emptied of its residents following twin landmine blasts and a gunfight nearby.
Locals fled after village leaders in the area were summoned by the Tatmadaw and told to share any relevant information that they had in the wake of two landmine blasts on September 20 about 1 mile from Kuntaing village.
"The Tatmadaw invited the heads of five villages on September 22 and 23 and told them to inform them if they knew who laid the landmine. They were told to inform if they know [of hostile acts] in advance," said Ko Maung San Aye, a resident of Wandwin village.  
Kuntaing residents said nearly everyone in the village had fled, taking shelter at IDP camps and relatives' homes in Buthidaung town.
"Four villagers remain at the village," said Arakan State Hluttaw lawmaker U Tun Aung Thein, who represents Buthidaung Township.
U Shwe Hla Aung, the Buthidaung Township administrator, said: "Kuntaing villagers fled from home after a landmine blast near their village. They did not arrive en masse. They fled home in small groups."
More than 13,000 people from some 30 villages in the region are sheltering at several IDP camps in the town of Buthidaung due to conflict between the Tatmadaw and the Arakan Army, according to figures from the Buthidaung Township General Administration Department.