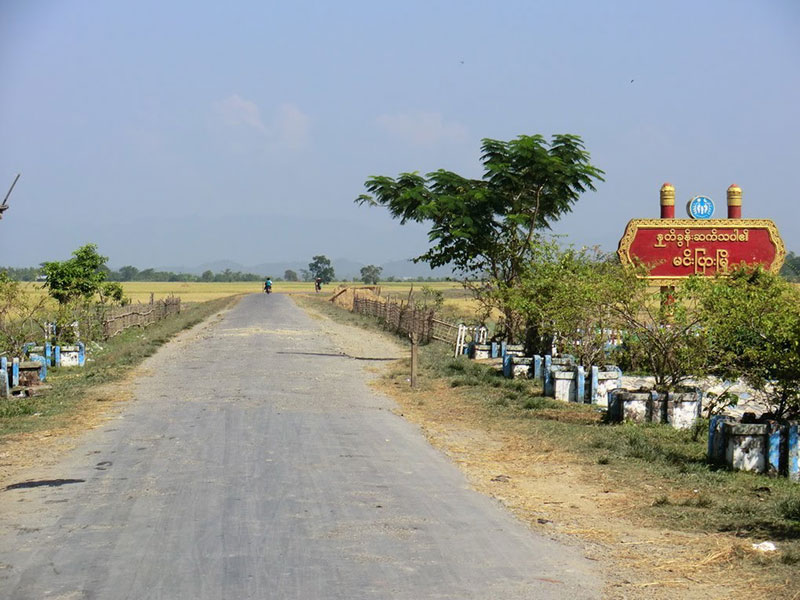 Aung Htein | DMG
2 October 2020, Sittwe 
Hostilities between the Tatmadaw and the Arakan Army (AA) flared for two days straight in Minbya Township amid a surge of COVID-19 cases in conflict-torn Arakan State, according to locals. 
Fighting broke out between the Tatmadaw and AA at a location between Minbya Township's Maylwan and Pharpyaw villages on September 30, and on Sanwin Hill near Rarmaung Bridge on October 1, according to residents. 
The fighting near Rarmaung Bridge lasted more than 30 minutes on the morning of October 1, and continued from 5 p.m. to 7 p.m. that same day, said locals in Thaykan village.
A 53-year-old woman from Thaykan village is receiving medical treatment at Minbya Hospital after being injured by shrapnel. 
"We lack medicine amid the ongoing coronavirus pandemic. We live in anxiety," said Daw Ma Than Htay, a resident of Thaykan village. "Locals in Arakan State are living with two kinds of anxiety, namely the COVID-19 pandemic and armed conflict." 
The Tatmadaw said on September 29 that it would extend its unilateral ceasefire by another month, through October 31, saying the extension was intended "to increase momentum of effective and rapid containment, prevention and treatment of COVID-19 in Myanmar and restoring lasting peace." 
The Tatmadaw's announcement said it would suspend military activities in the country "except in the areas where terrorist groups declared by the government take positions." That caveat is widely interpreted as thus excluding large parts of Arakan State and Chin State's Paletwa Township, where the AA is operational. 
Meanwhile, on September 1 a trio of ethnic armed groups including the AA issued a 70-day extension of its own previously declared unilateral ceasefire, citing COVID-19 and the hope that the peace gesture would ease conditions for holding Myanmar's general election on November 8. 
Hostilities between the military and the AA have flared with regularity in Arakan State since late 2018, and tensions between the two sides continue to intensify. Local residents have repeatedly urged the warring parties to lower their guns and negotiate a lasting settlement. 
"I think we will be able to live peacefully only if both sides stop fighting and sign a peace agreement. If the fighting continues, locals in Arakan State will have to flee to safer locations," said U Kyaw Nyein Maung, a resident of Thaykan village. 
The number of IDPs in Arakan State has climbed to more than 220,000 due to the conflict, with IDPs facing significant hardship and struggling to meet basic needs such as food, accommodation and healthcare.