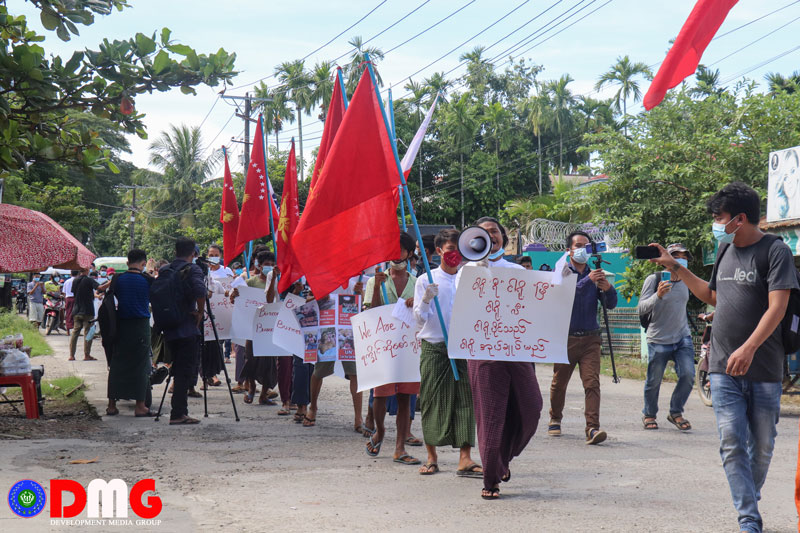 Aung Htein | DMG
20 October 2020, Sittwe
Police have opened a case against four students who were arrested on October 19 after staging a protest against the government and military in the Arakan State capital Sittwe.
"Police have opened a case against them under Section 505(b) of the Penal Code for committing sedition and causing public disturbances," said lawyer U Kyaw Nyint Maung.
Section 505(b) criminalises statements "likely to cause fear or alarm to the public, or to any section of the public, whereby any person may be induced to commit an offence against the State or against the public tranquility." It carries with it a maximum sentence of two years in prison. 
Police Major Zaw Naing of the Sittwe Township Police filed a complaint against them on Tuesday and a court hearing is scheduled for November 3.
Dozens of people joined Monday's protest, which was organised by the Arakan Students' Union.
Prosecuting student protesters is no way to address their grievances, said the chairman of the Sittwe University Students Union, Ko Toe Toe Aung.
"Those who are doing the prosecuting should be aware that people have voiced criticisms because they [the targets of protest] are doing wrong. If they were not doing anything wrong, we wouldn't need to stage protests and end up in police stations and prisons," he said.
Two of the four detained students are also facing lawsuits under the Peaceful Assembly and Procession Law for staging a demonstration against alleged human rights violations in Arakan State in early September.
Recently, two students from the All Burma Federation of Student Unions who staged an anti-war protest in Mandalay were each sentenced to a total of five years in prison and have another court hearing scheduled for October 21.
Beginning in September, more than a dozen people have seen charges brought against them under the Peaceful Assembly Law, the Natural Disaster Management Law and the Penal Code for staging demonstrations against armed conflict, human rights abuses and internet restrictions in Arakan State.