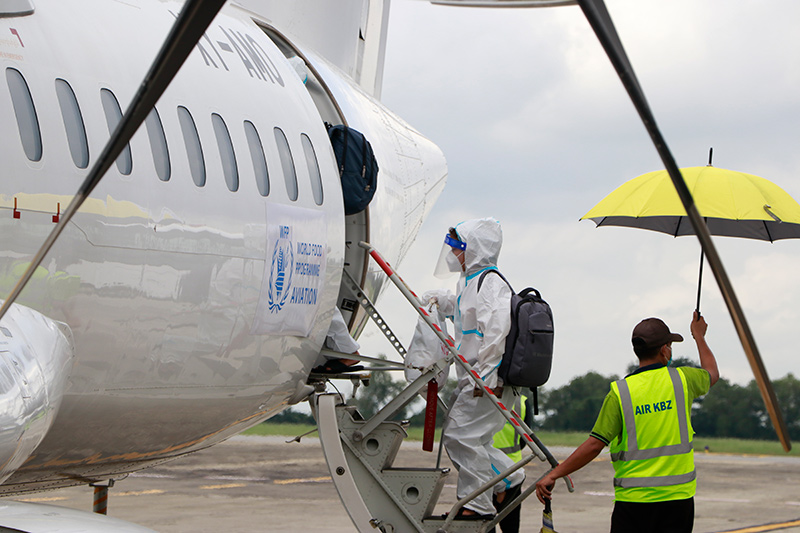 Myo Thiri Kyaw | DMG
27 October 2020, Sittwe

The World Food Programme (WFP) has launched a chartered flight between Yangon and Sittwe, according to the WFP, as domestic air services have been severely curbed by the coronavirus pandemic.

The UN agency arranged the charter plane because domestic commercial flights have been temporarily suspended in Myanmar as part of government efforts to contain the spread of COVID-19. In addition, transportation by road and sea between Yangon and Sittwe "is currently not practically feasible," the WFP noted in an October 24 statement.

"We decided to mainly operate the chartered flight between Arakan State and Yangon. Priority will be given to frontline health workers involved in the fight against the COVID-19 pandemic, government employees, and employees from NGOs and INGOs providing humanitarian assistance," WFP communications and liaison officer Ko Htet Oo Lin explained.

The first WFP charter flight left Yangon for Sittwe on October 24 and the second departed on the morning of October 27.

Passengers underwent COVID-19 testing prior to boarding and are required to adhere to Ministry of Health and Sports guidelines and other government measures related to air travel and quarantine, the WFP said.

"We plan to arrange additional flights as needed to facilitate the movement of critical staff providing frontline assistance to the COVID-19 response and humanitarian operations," said Stephen Anderson, representative and country director for WFP in Myanmar.

"Meanwhile, WFP's flights connecting Yangon, Vientiane and Kuala Lumpur, which commenced in early May due to the temporary suspension of international commercial flights, continue to operate on a weekly basis, bringing into Myanmar medical supplies and aid workers," WFP said in its statement.