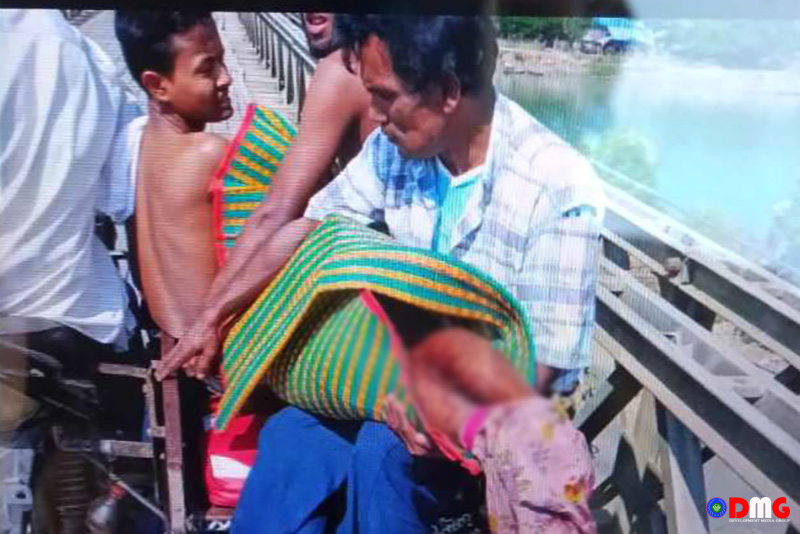 Aung Htein | DMG
20 November 2020, Sittwe 
A young Muslim man from Halapai village in Arakan State's Minbya Township was seriously wounded when he stepped on a landmine on November 20, according to residents. 
Identified as Maung Kyaw Lar Khar, the 19-year-old encountered the landmine just after noon while collecting betel nuts in an areca palm field about a mile from the Minbya-Mrauk-U intersection, said U Shwe Hla Phyu from Laungmee village, who assisted the victim. 
"The victim stepped on a landmine while collecting betel nuts. He was severely injured in the landmine blast and his condition is considered life-threatening," he said. 
Maung Kyaw Lar Khar is being treated at the Myaungbwe station hospital in neighbouring Mrauk-U Township, according to people who helped the victim. 
Locals accused the Tatmadaw of planting the landmine because a military contingent set up camp in the betel nut field a week ago and stayed there for two days. 
DMG contacted Maj-Gen Zaw Min Tun of the Tatmadaw True News Information Team for comment on the villagers' claims, but he could not be reached. 
Local residents of area villages are worried about venturing into the surrounding, forested hills due to a growing tally of landmine encounters and other conflict-related violence in the vicinity. 
A Muslim child from Sanbalay village in Minbya Township was wounded by a stray bullet in October. A resident of Minbya Township's Shwe Kyan village was seriously injured when he stepped on a landmine while heading to a hill to cut bamboo in May. 
According to data collected by DMG, at least 56 civilians were killed and 161 were injured in Arakan State's armed conflicts from June to November 20.