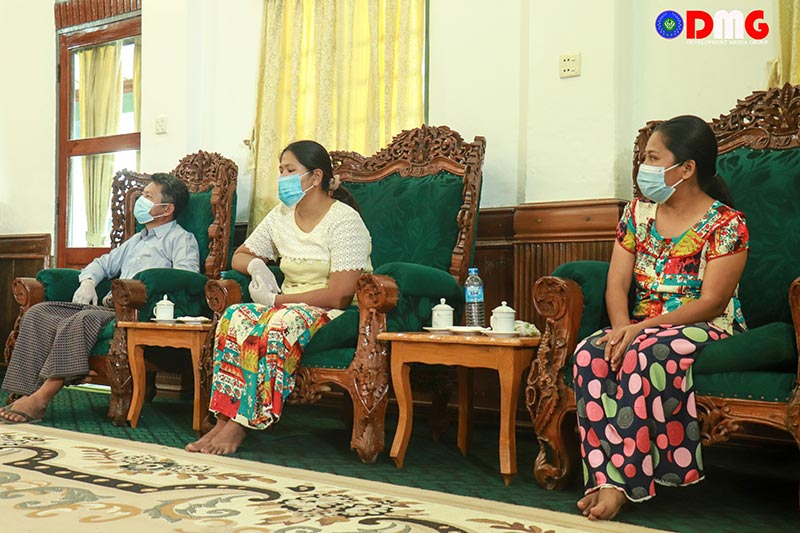 DMG Newsroom
13 May 2021, Taungup 
A former Lower House MP for the National League for Democracy (NLD) in Taungup Township, Daw Ni Ni May Myint, and fellow NLD candidate for the national legislature Daw Chit Chit Chaw were arrested on Wednesday, according to family members. 
The two were arrested in Yangon at about 7 p.m. on March 12, said Ko Lin Naing, the husband of Daw Ni Ni May Myint. 
"I was informed that the two lawmakers were arrested in Yangon yesterday evening," he said on Thursday. "Our daughter was sent to her [Daw Ni Ni May Myint's] sister's home. I was away when my wife was arrested. I don't know the reason why my wife was arrested." 
Family members are worried as the whereabouts of the two female politicians remain unknown.  
Daw Ni Ni May Myint ran as an incumbent for Taungup Township's Lower House seat in Myanmar's 2020 general election, while Daw Chit Chit Chaw contested the Upper House seat in the same constituency.  
Ma Moe San Suu Kyi, the daughter of former Arakan State Chief Minister U Nyi Pu, and three other NLD members including its Arakan State vice chairman, U Soe Lay, were arrested in front of the party's headquarters in Yangon on May 8. 
Several NLD members, including U Nyi Pu, have been arrested in Arakan State since the military seized power in a coup on February 1. 
Arrestees have been charged under a handful of statutes including Section 25 of the Natural Disaster Management Law, Section 19 of the Peaceful Assembly and Peaceful Procession Law, and Penal Code provisions.  
U Nyi Pu is facing charges under Section 505(b) of the Penal Code, which imposes a sentence of up to two years in prison for anyone who "makes, publishes, or circulates any statement, rumor, or report with intent to cause, or which is likely to cause, fear or alarm to the public, or to any section of the public, whereby any person may be induced to commit an offence against the State or against the public tranquility." 
With the military regime targeting NLD members in Arakan State and nationally, many have gone into hiding.