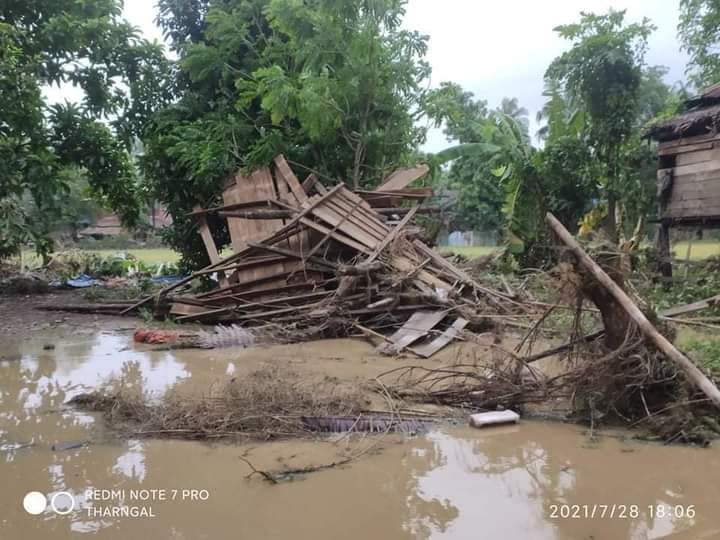 DMG Newsroom
30 July 2021, Thandwe 
Several houses in Arakan State's Thandwe Township were damaged by flooding on July 27 and financial assistance is reportedly needed to rebuild those homes. 
The floods destroyed 17 houses in Andaw village, Thandwe Township, said Ko Phyo Maung Maung, a Thandwe resident. 
"The flood victims need financial aid to rebuild their homes. There is no list of damage in the whole township yet. At least 17 houses in Andaw village were damaged by the floods. The flood victims are currently evacuated to a religious building and we are lending a helping hand to them as much as we can," he said. 
Most people in Thandwe Township have lost food supplies due to the floods and are facing food shortages, said Sayadaw U Tay Zeinda, a monk who is helping the flood victims in Thandwe. 
"When the water receded, the flood victims returned to their homes to clean up. We have to feed more than 500 households, so we have food shortages," the monk added. 
More than 700 households have been affected by the Thandwe floods and over 3,000 people are in need, while no deaths have been reported, U Hla Thein, an information officer for the Arakan State Administration Council, wrote on his Facebook page on July 28. 
The chairman of the Arakan State Administration Council, Dr. Aung Kyaw Min, and fellow council members provided flood victims taking shelter at the Sasana Beikman (religious building) in Thandwe with relief supplies such as rice, cooking oil, iodised salt and basic foodstuffs on July 29. 
The Arakan State Administration Council provided K500,000 per household for the flood victims and K100,000 more each was provided by the Department of Disaster Management.