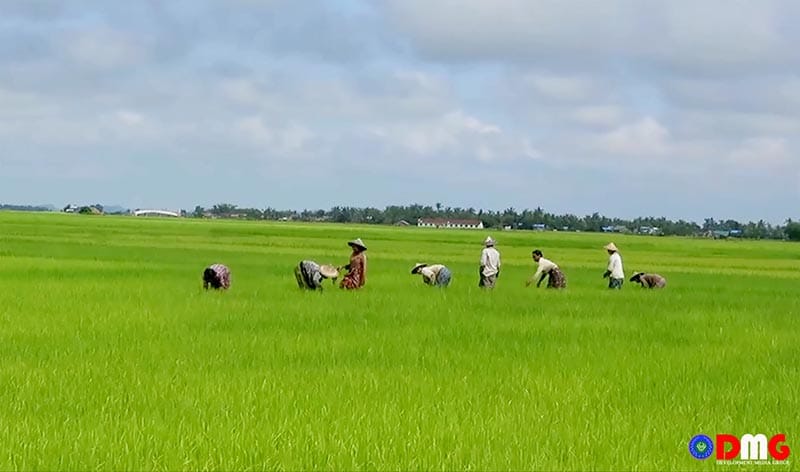 DMG Newsroom
19 August 2021, Sittwe

Farmers in Arakan State say they are facing difficulties as fertiliser prices have increased by as much as 50% this year.

The price of a bag of ARMO fertiliser rose to K40,000 from K28,000, and a bag of Shwe Nagar fertiliser increased from K40,000 to K60,000, making it difficult for the typical farmer to purchase as in previous years.

"Fertiliser prices have almost doubled this year. Shopkeepers say the price of fertiliser has risen mainly due to the cost of transportation amid the ongoing Covid-19 pandemic," said U Nyi Than Shwe, a farmer in Manaung Township.

Farmers are worried that yields will fall if they are forced to cut back on fertiliser this year, as looks likely to be the case.

"Fertiliser prices have skyrocketed, so only five can be used instead of 10 bags of fertiliser. Without fertiliser, farmers will not get paddy. On the other hand, fertiliser is used sparingly in paddy cultivation," said Aung Mra Thein, a local farmer from Ngasinyaing village in Minbya Township.

"Farmers have been facing economic difficulties since the beginning of the economic crisis. Even during the armed conflict, fertiliser prices did not rise that much," said U Soe Naing, a farmer from Tin Nyo Village in Mrauk-U Township.

U Khin Maung Than, a farmer in Manaung Township, said that although his monsoon paddy loan had been repaid, he has yet to receive an agricultural loan this year.

"We have already repaid the monsoon paddy loan since a month ago. So far, we have not been able to buy fertiliser for this year, so we are having a hard time. We had to sell rice to pay off the loan. We will be able to grow paddy again only if we get another agricultural loan," he explained.

Nearly 46% of monsoon paddy loans have been repaid in Manaung Township, and the final disbursement is scheduled for September 30, said U Pyone Naing, manager of the Myanma Agricultural Development Bank's Manaung branch.

"We disburse agricultural loans to farmers by placing them six feet apart in accordance with the Covid-19 rules. We also allow only 15 people in a group to enter the bank to withdraw the agricultural loans in order to avoid crowds. The final disbursement is scheduled for September 30," he said.