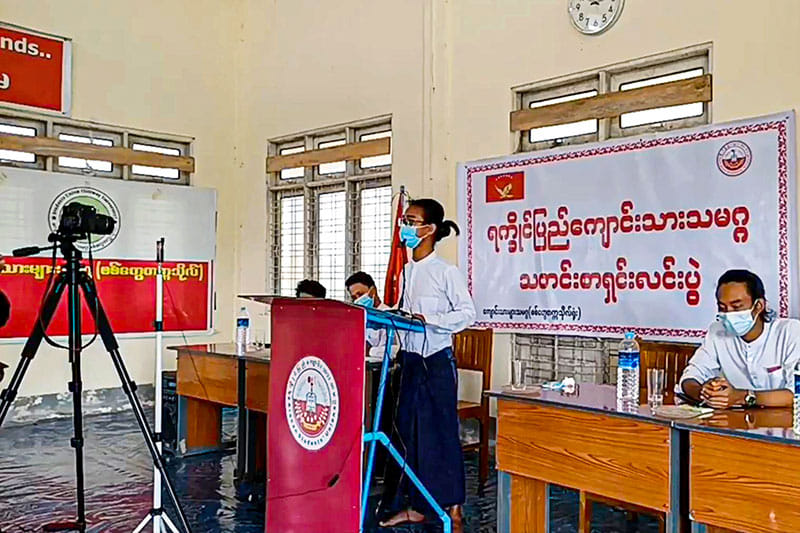 DMG Newsroom
26 February 2022, Sittwe

Students in the Arakan State capital are pushing back against orders to remove both their union office and that of the Teachers' Union on the Sittwe University campus, calling the edict an act of dictatorial oppression.

"Officials of the university are removing our offices. Removing the offices of two organisations from campus is an oppression," Ko Phone Pyae Phyo, acting chair of the Sittwe University Students' Union, told DMG.

The Sittwe University rector and other university officials told the two unions to vacate the building where their offices are located by February 28, citing plans to reopen a campus "rest centre" in their place. Student representatives have been told that they would be punished if their office space was not vacated by the deadline.

Members of the two unions jointly attempted to negotiate with university officials, seeking more time to allow them to find spaces to relocate their offices, but the officials reportedly said their hands were tied.

The officials said "they have no mandate and their superiors ordered them to tell the unions to vacate the campus," the Central Executive Committee of the Students' Union said in a statement released on February 26.

U Kyaw Naing Oo, a spokesperson for Sittwe University and head of the Academic Affairs Department, told DMG: "The situation is to follow the instructions of the Higher Education Department. We are not instructed now to give them an [alternative] place to open their offices."

The two unions have indicated that they are willing to relocate their offices, as long as suitable alternative office space is made available, rather than fight the eviction order.