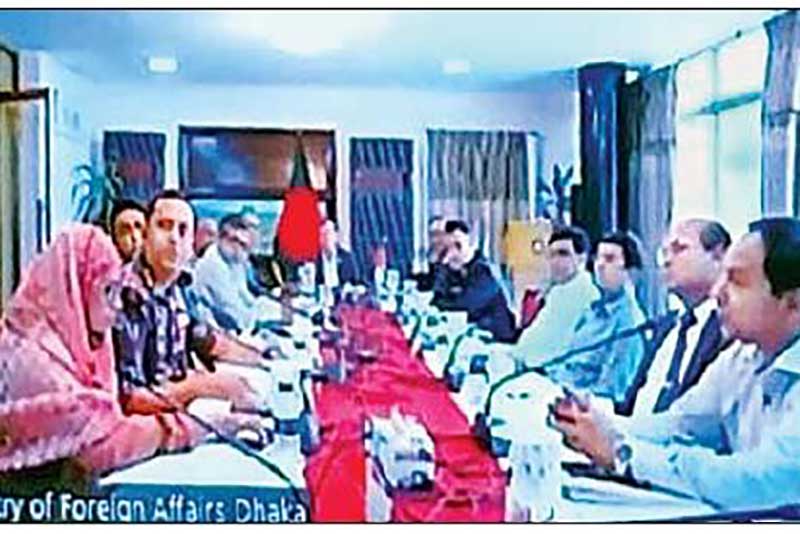 DMG Newsroom
15 June 2022, Sittwe 
A fifth meeting of the Myanmar-Bangladesh joint working group on repatriation of Muslim refugees was held via video conferencing on Tuesday, according to reports from the junta-run newspaper Myanma Alin. 
Permanent Secretary U Chan Aye of the regime's Foreign Ministry and Secretary Masud Bin Momen of the Bangladeshi Foreign Ministry reportedly attended the meeting. 
The two sides discussed challenges in the verification process, and plans to start repatriating those who have been verified by the Myanmar side.  They also discussed plans for resettlement of voluntary returnees, and trust-building, reported state-run media. 
The Myanmar side is said to have discussed measures to ensure security and rule of law in Arakan State, including renovation of transit camps and houses in villages where returnees will be resettled; plans to create jobs and provide education and healthcare services to returnees; and cooperation with partner countries, including ASEAN and UN agencies in the repatriation process, said the report. 
More than 700,000 Muslims fled to Bangladesh as of September 2017, after the Myanmar military launched disproprtionte "clearance operations" in response to attacks by the Arakan Rohingya Salvation Army on border guard police outposts in August of that year. 
The now-ousted National League for Democracy (NLD) government led by Daw Aung San Suu Kyi tried in vain to repatriate Muslim refugees in the years prior to its ouster.  
The regime is planning to bring back 700 Muslims initially, repatriating 150 per week. They will be accommodated at transit camps in Taungpyo Letwe, Nga Khuya, and Hla Poe Kaung in Maungdaw, U Hla Thein, spokesman of the regime's Arakan State Administration Council, told DMG. 
Arakan State observers have said Muslim refugees in Bangladesh are unlikely to return to Myanmar for now, due to the increasingly fraught dynamics that have accompanied last year's coup, and because of the complicated situation in Arakan State particularly.