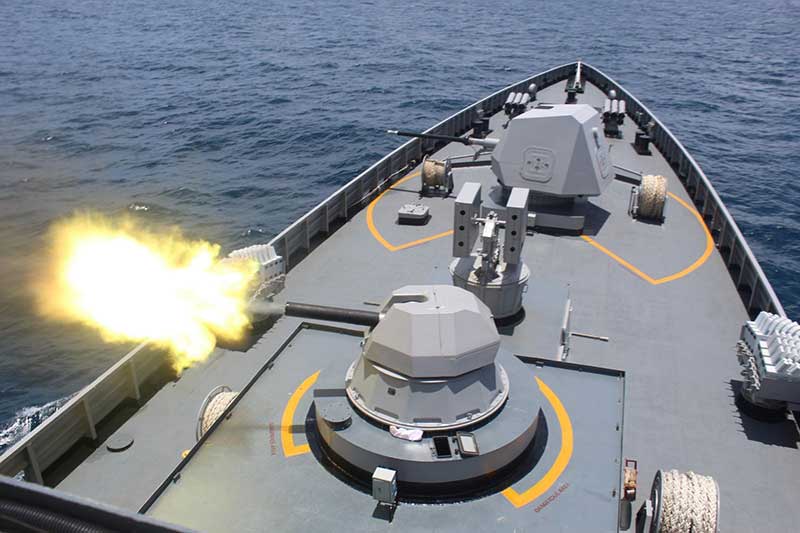 DMG Newsroom
7 July 2022, Sittwe 
Arakan Army (AA) spokesman U Khaing Thukha has described recent Myanmar military exercises off the coast of Arakan State as a threat to the ethnic armed group and Arakanese people. 
Starting late last week, the Myanmar Navy has conducted offshore tactical exercises, referred to by the regime as "Sea Shield-2022", that have included at least two of its submarines, warships, and helicopters. Junta chief Min Aung Hlaing viewed one of those exercises on Tuesday, according to state media, which reported that the exercises aimed to improve defence capability and protect the sovereignty and territory of the country. 
U Khaing Thukha, however, called the military exercises a display of force intended to threaten the AA and Arakanese people.  
"To make an overall assessment, there are no threats from neighbouring countries — for example, India or Bangladesh — in the sea. So, the main intention of their military exercise is to show off its strength and threaten the local armed organisation AA and the Arakanese people," said U Khaing Thukha. 
Former Lower House lawmaker U Pe Than told DMG: "My view is that they are displaying their naval power to the groups that don't see eye to eye with them." 
"The Sea Shield-2022 was successfully conducted with the participation of 20 war vessels including frigates, submarines and helicopters from the Tatmadaw (Air) amid the bad monsoon season at the exercise area," the junta-run Global New Light of Myanmar newspaper reported on Wednesday.  
The Myanmar military and the AA engaged in some two years of often-intense fighting from late 2018 to November 2020. The two sides have since largely observed an informal ceasefire, but tensions have been growing lately in Arakan State. 
In the east of the country, meanwhile, six AA fighters were killed and others were injured on Monday when the regime carried out airstrikes on an AA outpost near the Myanmar-Thai border. The Arakan Army has vowed to retaliate.