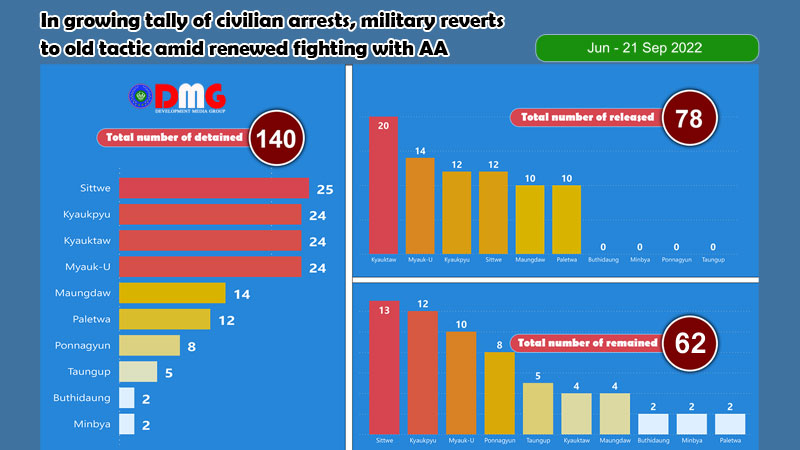 DMG Newsroom
22 September 2022, Sittwe 
With renewed hostilities between the Myanmar military and the Arakan Army (AA) in Arakan State and Chin State's Paletwa Township, scores of civilians have been detained on suspicion of having ties to the AA over the past few months. 
Since June, the Myanmar military has detained at least 140 civilians in Arakan State and neighbouring Paletwa Township, according to a DMG tally. The actual number is likely higher.  
Most of the detainees were arrested over their alleged ties to the AA, while some were arrested on suspicion of having links to the Committee Representing Pyidaungsu Hluttaw (CRPH) or People's Defence Force (PDF), which the military regime has labelled terrorist organisations. 
Broken down by township, the Myanmar military detained 25 people in Sittwe; 24 each in Mrauk-U, Kyaukphyu and Kyauktaw; 14 in Maungdaw; 12 in Paletwa; eight in Ponnagyun; five in Taungup; and two each in Minbya and Buthidaung. 
Some of them have been released, but 10 remain detained in Mrauk-U, as well as four in Kyauktaw; two in Buthidaung; 12 in Kyaukphyu; five in Taungup; four in Maungdaw; eight in Ponnagyun; 13 in Sittwe; two in Minbya; and two in Paletwa, totaling 62 people. 
A family member of Ko Oo Ba Hlaing, one of the detainees in Ponnagyun, said: "He should be released immediately if he is innocent. Family members are having difficulties with their livelihoods." 
Eight people from Ponnagyun Township, including Ko Oo Ba Hlaing, were detained in June and charged with incitement under Section 505(a) of the Penal Code. 
Some detainees have not been able to meet with their families. 
Daw Shwe Mya Khaing, the wife of Kyein Chaung village administrator U Bo Ko Naing, who was detained in July, said: "I have not been allowed to meet him. I was told that I still can't meet him. I don't know his condition. I am concerned for his safety." 
During two years of intense fighting between Myanmar's military and the Arakan Army from late 2018 to November 2020, hundreds of civilians were arrested and charged under the Counter-Terrorism Law on suspicion of having ties to the AA. 
Arrests became less common after the two sides reached an unofficial ceasefire ahead of Myanmar's general election in November 2020. Human rights activists in Arakan State have condemned the regime for targeting civilians once again. 
"Whenever the military fights the AA, they are only making civilian arrests. Despite condemnation for human rights violations, they continue to perpetrate these things," said a human rights activist from Arakan State. 
The AA, meanwhile, has detained several junta personnel in non-combat settings over the past few months.