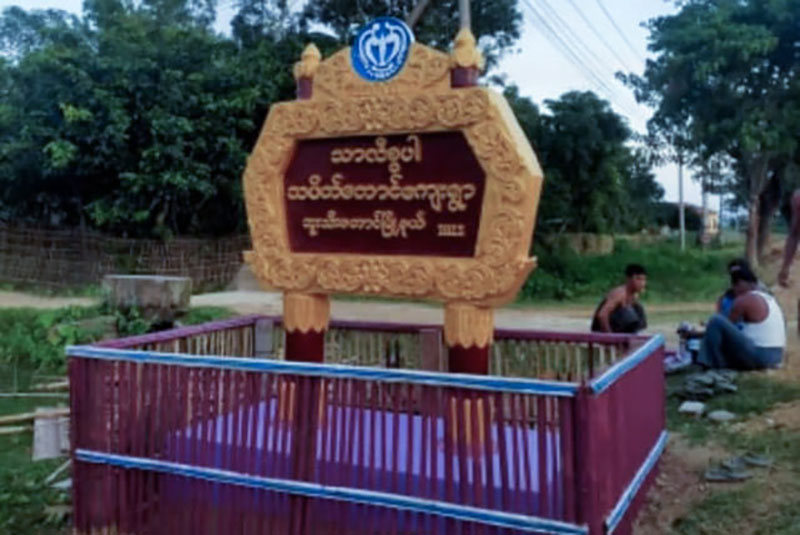 DMG Newsroom
24 September 2022, Buthidaung

Some houses of Thabeik Taung Village in Arakan State's Buthidaung Township were torched at around 9 p.m. on Friday, after villagers fled their homes following shelling from a local border guard police battalion.

A resident of Thabeik Taung Village said: "I heard from some villagers that soldiers arrived at the village monastery around 6 p.m. Some 10 villagers remained at the village monastery with the abbot. But I have lost contact with them since. Houses were torched around 9 p.m. We don't know exactly how many houses were burnt."

The village is divided into north and south, with Muslim residents occupying the north and Arakanese villagers occupying the south.

Former Buthidaung Township lawmaker U Aung Thaung Shwe said three houses were torched by junta soldiers in Thabeik Taung.

"I heard three houses were burnt. The Myanmar military is deliberately torching houses because they want to destroy villages," he said.

Thabeik Taung Village has over 60 houses with more than 300 people. Nearly all the villagers fled to Buthidaung town and nearby villages following the junta shelling on Friday.

Villagers dare not return to their homes as junta soldiers are still deployed in the village. And they still have not been able to contact the abbot and some villagers trapped in the village.

DMG was unable to obtain comment from Arakan State Security and Border Affairs Minister Colonel Kyaw Thura.

Myanmar's military is committing war crimes across Myanmar including in Arakan State, and must be held accountable for its crimes, said Arakan Army spokesman U Khaing Thukha.

"The Myanmar military is torching villages across Arakan State and also across Myanmar, despite the fact that those villages are not the site of fighting. This is an old tactic of the Myanmar military. It is their 'total destruction policy' to torch villages if villagers rise up against them or support revolution."

A Muslim man and woman in Thabeik Taung Village (North) were injured when an artillery shell landed in their village on Friday morning.