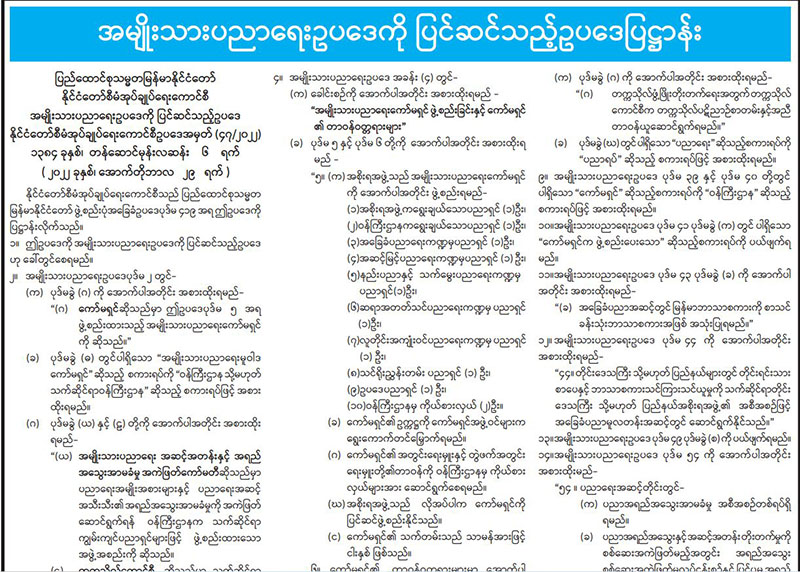 DMG Newsroom
31 October 2022, Sittwe

The Arakan Students Union has objected to changes recently made by Myanmar's military regime to the National Education Law, which set Burmese as the official language of the country's classrooms.

The students' union released a statement on Sunday alleging that the amendment is intended to wipe out the mother languages of non-Bamar ethnic people in Myanmar.

"But it is not the only amendment that we don't like in the amended law," said the union's information officer, Ko Oo Than Naing. "But it is the key amendment that we object to."

The original National Education Law states that ethnic languages, if necessary, shall be used as classroom languages along with the Burmese language at the primary level. Under the amended law, however, only the Bamar language is permitted to be used in teaching.

Another provision in the original law says ethnic literature and language shall be taught beginning from basic education primary level and later at higher levels, at the arrangement of the relevant region or state governments.

"The amendment means [schools] can either teach ethnic language or not. The original law says authorities must arrange for it," said a law student from Sittwe University.

The regime should have consulted with political parties, student unions, committees advocating for higher educational standards and other stakeholders, said Ko Oo Than Naing.