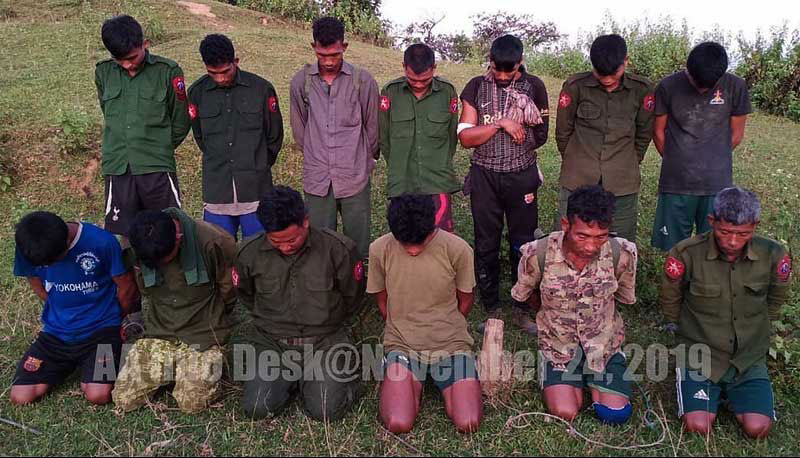 Kyaw Chit | DMG
25 November, Sittwe
 
Eight Tatmadaw soldiers were killed and total of 13 people including a lieutenant and a warrant officer surrendered after fighting in Paletwa Township in Chin State on the afternoon of 19 November, the AA announced.

Clashes erupted between its forces and Light Infantry Battalion 313 based in Hmawbi, Yangon Region, under Light Infantry Division 77 on a mountain range located on the western side of Kama creek (locally known as Karama creek) in Paletwa Township, the AA said.

It detained 13 people from the Tatmadaw including a lieutenant and a warrant officer, 14 rifles and some ammunition was also commandeered, it said.

Colonel Win Zaw Oo, the head of Western Command, said there was no fight in that location and the AA reposted information of fighting that took place in Paletwa Township in 2017.

"Even soldiers who were allegedly arrested for various reasons during battles was not verified. It is a sorrowful experience for the Burmese soldiers who sacrifice their lives. And what's more it's a tragedy for the families of these soldiers," said Khaing Thukha, spokesperson of the AA, regarding the Tatmadaw's response.

The AA displayed a photo of 13 prisoners from the Tatmadaw on 25 November and also said that it will describe in detail their names and ranks.

If Tatmadaw releases Arakanese people who have been detained during the fighting, the AA will free all abductees affiliated with the military, the AA said.

"If all Arakanese people who have been arrested by Burmese government and military during the fighting are released, we will also free all the people we have detained," said Khaing Thukha.

The Tatmadaw rejected the offer made by the AA on 11 November to release 17 people who are affiliated with the military in exchange for the release of people detained by the Tatmadaw. The Tatmadaw issued a very direct statement saying it will not negotiate with terrorist groups.