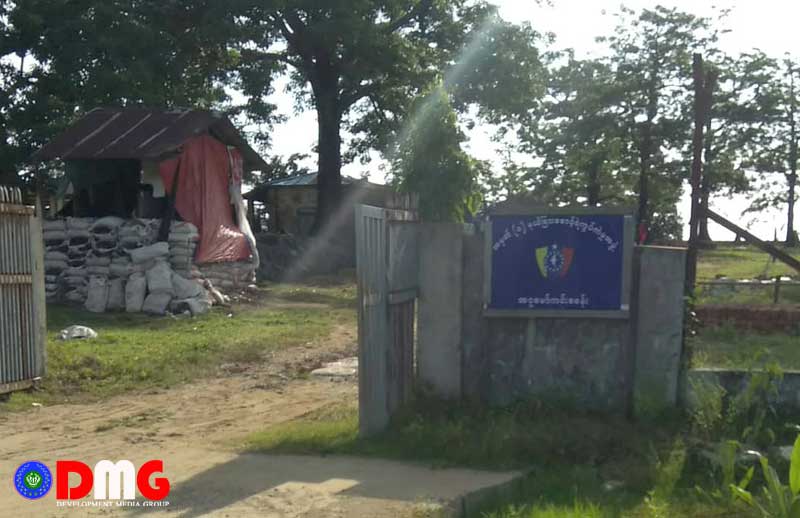 Cha Lu Aung | DMG
4 December, Sittwe
 
The Tatmadaw and police inspected Konedan village in Rathedaung township on 3 December and brought a teacher, an educational clerk and a ward/village tract clerk to the Ah Ngu Maw Police Station for questioning, village head U Tin Maung told the DMG.

U Tin Maung said villagers gathered at a monastery to check their household lists; then, the Tatmadaw entered homes and members of Military Affairs Security Unit (Sa-Ya-Pha) and police force inspected every house in the village; they took bomb shelters' photos and also checked boxes, water pots and toilets thoroughly.

"After examinations, they let villagers check to see if anything was missing from their houses. They inspected the household lists of the villagers at the monastery, the inspection finished at around 3:00pm. Then, they brought a teacher, an educational clerk and a ward/village tract clerk in for questioning. We've heard that they have been investigated at Ah Ngu Maw Police Station," he said.

Ward/ village clerk U Maung Ni, 52, teacher U Kyaw San Naing, 34, and educational clerk U Nay Zaw Tun, 28, have been questioned.

Head of township education department U Kyaw Mya said he phoned Ah Ngu Maw police station regarding the matter, but nobody could speak to him.

"They have to inform us whether they arrested or just questioned educational staff. They have not said anything regarding the matter yet," he said.

When the DMG contacted Colonel Win Zaw Oo, the head of Western Command, he said that he did not know about it and would reply after he checked it.

The Tatmadaw has suspected that members of the Arakan Army (AA) are living in some Arakan villages by disguising themselves as villagers. Thus, the Tatmadaw inspect villages frequently and then make arrests and conduct investigations.

Two teachers from Buthidaung township were arrested on suspicion of association with the AA in August and were sued under Anti-terrorism Law. One of the two arrested, U Nay Zaw Lin was released by Buthidaung township court on 3 December without being charged, and U Naing Aung Tun was charged.