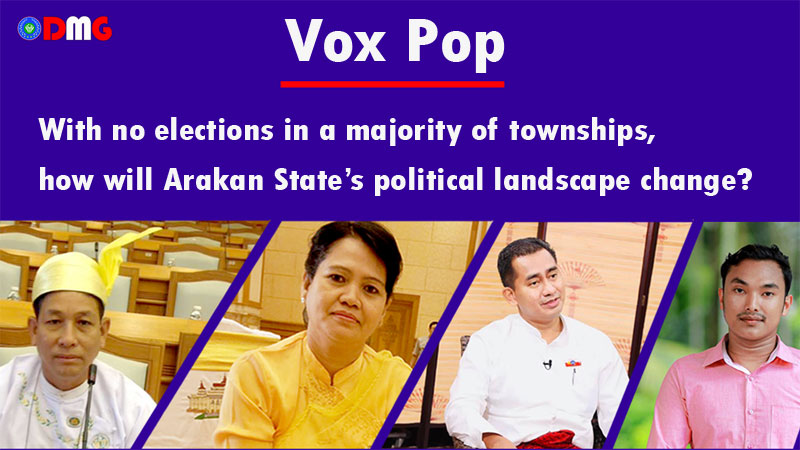 Nine entire townships in Arakan State and dozens of village-tracts and wards in four other townships in the state will not be voting in the November 8 general election, the Union Election Commission announced on October 16.
With the election just weeks away, DMG reporters Khin Tharaphy Oo and Min Tun spoke exclusively with some of the candidates who were supposed to contest in the cancelled constituencies, to hear their thoughts on what the future holds for Arakan State's politics and its people.
U Aung Thaung Shwe, Pyithu Hluttaw candidate (Independent); Buthidaung Township
There won't be much change if there is no election. Likewise, there also wouldn't be much change if there was an election. Because we had elections in 2015, we are now Hluttaw representatives. We have spoken as the voices of the people in the Hluttaw and in the media. However, what is happening today is totally different. There's no change in what is happening on the ground, no matter to what extent we are speaking from the Hluttaw.
So, even after the election and the seating of Hluttaw representatives, what is happening here will not change. It means the government has not listened to the voices of the Hluttaw representatives, which are actually the voices of the people. Some Hluttaw representatives have even been arrested and put in jail. The voices of ethnic people have been neglected. That is why, even if there are elections, there would not be many changes.
People are fleeing and dying due to the ongoing fighting. There is no rule of law and the administrative state has failed. That is why people's rights have been violated. If we cannot speak [as lawmakers] on their behalf, it is a big concern for the people.  
U Win Aung, Amyotha Hluttaw candidate (Arakan National Party); Rakhine-6, encompassing Minbya and Myebon townships
Both the government and Tatmadaw should bear in mind that Arakan State has been in a situation overwhelmed by multiple crises and facing all sorts of problems. That is why if they consider broadly for genuine federalism, which is the union spirit, they need to solve as a matter of priority and urgency the Arakan issue, which is a part of the genuine, federal, democratic union. The present situation is that both the government and Tatmadaw have neglected and dumped national reconciliation into the ditch. My first comment is that all democratic norms have been jettisoned.
Secondly, everyone has known about the situation regarding armed conflict since the beginning. Why didn't the government discuss ways to secure the elections? Why did it not attempt to discuss?
I would like to say the idea not to hold elections in some townships including northern Arakan State, where the Arakanese-represented parties including the ANP [Arakan National Party] can be described as definite favourites to win, is disgusting.  
Arakan State is in a very worrisome situation because of not allowing the use of political means in the areas with no elections, [leading some to instead] try to solve the problems by adding more muscle to the armed conflict. I am concerned that Arakan State could become chaotic — filled with political, social and economic crises.
Daw Khin Saw Wai, Pyithu Hluttaw candidate (Arakan National Party); Rathedaung Township
Pauktaw Township is a white area. There has not been fighting. And there is no fighting in Maungdaw either. Elections can be held. So, the Union Election Commission should be transparent as there are some places in the nine townships that have not had fighting. There are places where the election can be held in the downtown area. So we'd like to urge the UEC to explain [its justification for not holding elections] to the people transparently.
If the political frame is narrow, the military frame will become bigger. People on the ground will be severely hurt if the political frame becomes narrow. If the military option is bigger, it is not good for anyone. So, it is necessary to have political means. As the media is fully aware, some people have less interest in politics. They are having ideas like, 'We can't seek anything by means of doing politics.' So in practical terms, we are seeing that they [the people of Arakan State, particularly youth] have got the idea that they must rely on arms. If there is no politics, the militarised areas, conflict zones will widen.
U Maung Win Soe, Pyithu Hluttaw candidate (Arakan Front Party); Minbya Township
In the UEC announcement, it is not Arakan State alone where the election will not be taking place. Places in Kachin, Kayin and Mon states are also not holding elections. We notice that elections are not happening in places where the ethnic parties are strong and likely to win.
In Arakan, only four southern townships will have elections competitively. We'd like to question the sincerity. What I would like to say is that it is like only the ethnic party strongholds have been singled out not to hold elections. For example, Pauktaw and Maungdaw townships do not have fighting and these places have been conspicuously left out. I am not sure if they think they might not be able to take responsibility for the future security environment, which could go beyond their control. It is the government's weakness. We did not expect such things would happen. We did not expect the number of townships would be that many. I am really surprised. It is jaw-dropping.