In Post-Cyclone Arakan, International Actors and Domestic Gatekeepers Must Work Better Together
Despite reports that the international community has provided significant aid to the junta for distribution to those in need, effective aid has reportedly failed to reach many storm-affected people on the ground.
By Admin 15 Jul 2023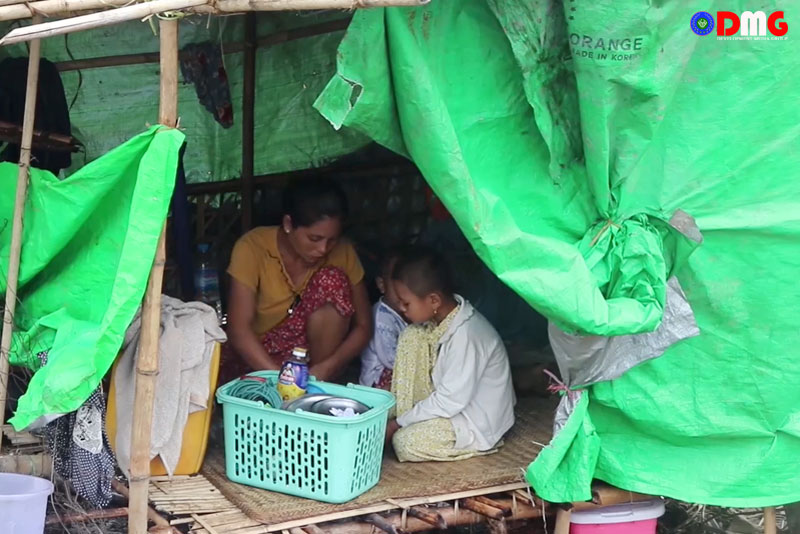 Written By Htet Aung
It has been about two months since Cyclone Mocha hit Arakan State, but most of the state's residents continue to face economic insecurity and food shortages, and there remain many challenges on the road to recovery.
In order to address these crises, the combined assistance of the junta, local aid groups and international humanitarian actors will be needed, both the Arakan Army (AA) and local residents acknowledge.
"When people are suffering like this, it is important to be able to deliver humanitarian aid as quickly as possible, without any obstacles. All relevant organisations should help the storm victims with full humanity," U Khaing Thukha, spokesman for the AA, told DMG.
The Arakan Army has said more than 1.5 million people were affected by Cyclone Mocha, which made landfall over Arakan State with destructive force on May 14.
The Arakan State military council has banned nongovernmental organisations and their international counterparts (NGOs and INGOs), civil society groups and other social organisations from travelling within Arakan State, making efforts to provide assistance to storm-affected populations more difficult, according to the AA.
"When the people are in trouble, there should be absolutely no restrictions on humanitarian assistance," U Khaing Thukha said.
The financial losses totalled K522 billion and the government can only provide K7 billion, the Arakan State military council told DMG. Therefore, the help of international organisations is almost certainly required for the recovery of the people affected by the storm.
"If international aid comes smoothly, everyone may get a certain amount of assistance," ASAC spokesman U Hla Thein said.
The junta has accepted some donations from the international community for storm victims. The statements of the embassies of these countries show that donations will be made to storm victims through international humanitarian organisations from countries such as the United States, Australia, Germany, Great Britain, Thailand and Indonesia.
Australia will donate US$10.5 million for the 1.6 million people affected by the storm in Myanmar, according to an announcement from the Australian Embassy on June 25.
Germany announced on May 25 that it has provided an additional 5 million euros to the World Food Programme (WFP) for storm-affected Muslim refugees in Bangladesh and displaced people in Myanmar.
The United States announced on May 17 that it would provide US$200,000 or shelter, water supply, environment and personal hygiene facilities in Arakan and Chin states through USAID. The United States announced on May 24 that nearly US$17 million in humanitarian aid will be provided through USAID to respond to the damage caused by the storm.
China also donated 10,000 mosquito nets and 10,000 blankets to those affected by Cyclone Mocha on June 12, and the same donation was sent on June 19, the Chinese Embassy in Yangon announced.
The Chinese Embassy also announced on May 20 that China donated 100,000 yuan worth of dry noodles, biscuits and drinking water as natural disaster relief items. In a May 24 statement, the Chinese Embassy said that the Red Cross Society of China had given US$100,000 to the Myanmar Red Cross Society.
India also handed over to the junta a total of 40 tonnes of relief materials for the storm victims in Myanmar, including medicines, on May 19.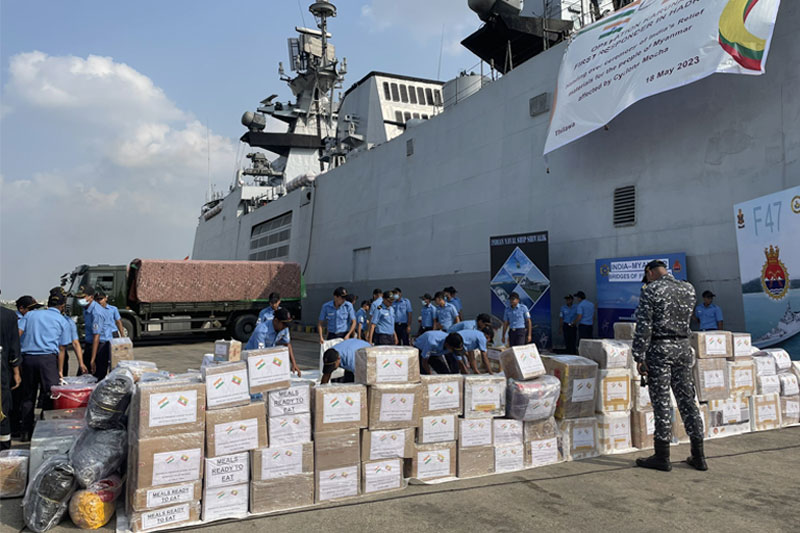 Despite reports that the international community has provided significant aid to the junta for distribution to those in need, effective aid has reportedly failed to reach many storm-affected people on the ground.
"We need bamboo and nipa palm leaves. The shelters we live in leak when it rains. We need assistance from both the international community and the junta," said U Tun Myint, manager of the Zedipyin displacement camp in Rathedaung Township.
Regarding this issue, Arakan State military council spokesperson U Hla Thein said there are discussions between the relevant organisations and the military council to ensure that all international donations reach the people.
Currently, the junta has transferred some international donations to the people, but the amount has not been clearly disclosed.
Furthermore, the junta is only allowing NGO and INGO to travel for aid deliveries under previously approved procedures, and new approvals must be submitted for new programmes. As a result, some organisations are said to be facing time delays and travel difficulties in delivering relief items to those in need.
Approval of distribution and transportation plans for the Cyclone Mocha relief response in Arakan and Chin states remains pending, UNOCHA Myanmar said in a statement on June 19.
"This sudden decision has exacerbated the already dire living conditions of the cyclone-affected population as heavy rains and flooding from the monsoon season continues to impact areas already severely affected by the cyclone," it added.
U Pe Than, a veteran Arakanese politician, pointed out that due to the lack of coordination between the junta and international organisations, people suffering from natural disasters are not receiving necessary assistance.
"If there are non-negotiables regarding international aid, you should explain how they are non-negotiable. If the junta wants to limit aid to its own people from abroad, there is a possibility of delays in providing aid," he added.
Politicians say the issue of lack of access to international aid is causing widespread harm to the affected populations.
"The more international organisations donate to the storm victims, the better," said U Khaing Pyi Soe, a top leader of the Arakan National Party (ANP). "Putting supplies in a warehouse is not a good idea. There are many ways to do it. I think it's worth trying to find out how best to reach the public with those methods."