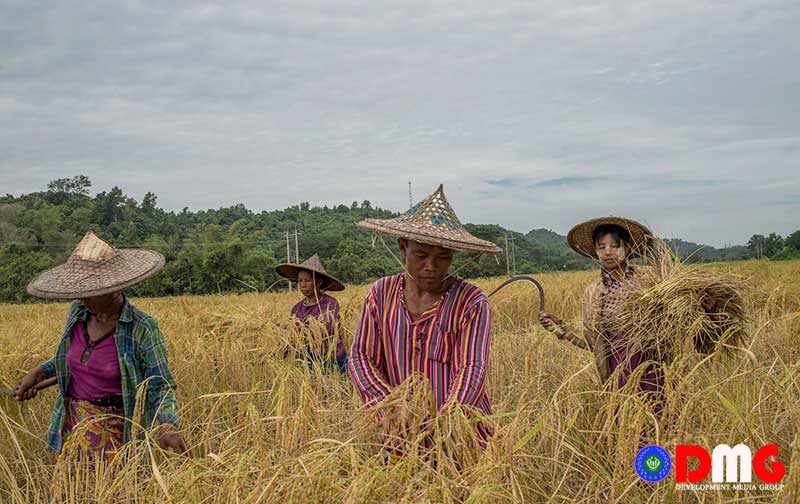 Aung Htein | DMG
3 January, Sittwe

A motion urging the local government to assist farmers who are struggling to harvest and store their crops due to ongoing clashes between the Tatmadaw and the Arakan Army (AA) was approved by the Arakan State assembly on January 2.

Intensifying clashes between the Tatmadaw and the Arakan Army in Arakan State have prevented some local farmers from reaping their crops. A scarcity of labor and mechanical troubles were other problems that some farmers faced, preventing a timely harvest, said U Tun Thar Sein, an MP from Mrauk-U constituency.

He added, "The local government has provided a combine harvester to each township in Arakan State. But some paddy fields are not being harvested in time because the combine harvesters are not functioning well."

Current market prices are also presenting a conundrum.

"The price of 100 bushels of paddy is around 100,000 Myanmar kyats [US$68]. So the price cannot cover the cost," U Tun Thar Sein explained.

He went on to say that the local government should help the farmers in addressing their challenges, warning that delays in the provision of assistance could trigger unrest as strain on livelihoods grows.  

"Who would dare say that unrest and riots cannot erupt in Arakan State as a consequence of the matter? I would like to urge the local government via the speaker of the Arakan State parliament to take necessary steps urgently to be able to solve the problems," the lawmaker said.

U Kyaw Hla Sein, a farmer from Taung Oo village in Mrauk-U Township, was on his way to his paddy fields near Mt. Lin Mywe recently when security personnel from a Tatmadaw contingent stationed there prevented him from harvesting the crop, citing security reasons, the legislator told the Arakan State parliament.

The proposal was put forward by MP U Phoe San from Kyaukphyu constituency on December 30 and was approved unanimously by the Arakan State legislature on January 2.

Currently, there are more than 12,000 acres of paddy fields that must soon be harvested across seven townships in Arakan State with active armed conflicts, according to the Arakan Farmers' Union.