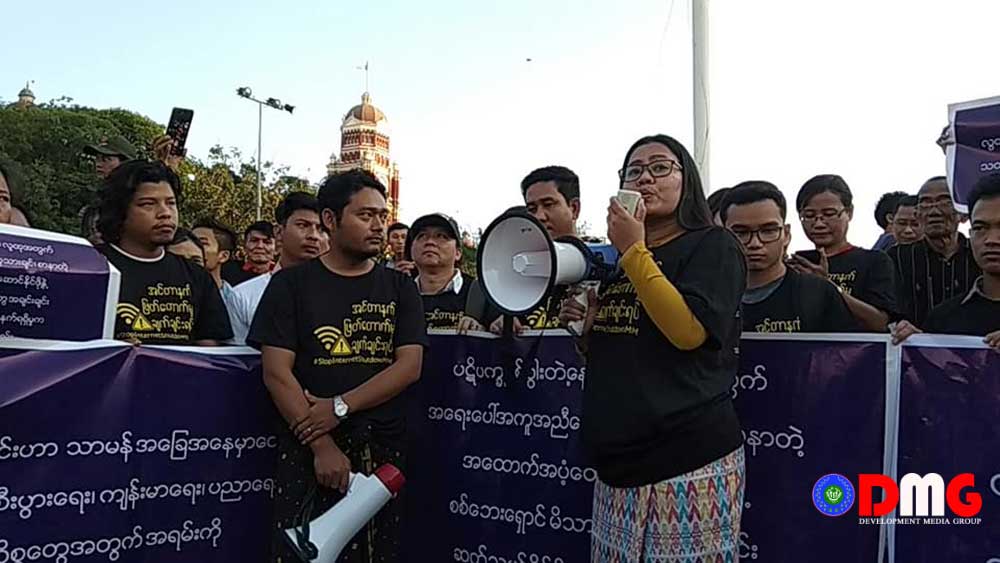 Myat Swe | DMG
February 4, Sittwe

Internet access has again been blocked in five townships of western Myanmar, just over a month after parliamentarians and activists demonstrated against the government and called on it to restore online connectivity in four Arakan State townships where a shutdown has been in place since June last year.

On February 3, the internet blackout was reimposed in Arakan State's Buthidaung, Maungdaw, Rathedaung and Myebon townships, as well as in Paletwa Township, Chin State.

Ooredoo, one of a handful of foreign telecoms companies operating in Myanmar, sent a message to its users saying internet access would be temporarily suspended in compliance with orders from the Ministry of Transport and Communications. Phone calls and other mobile services are working as normal.

"Internet access has already been cut once before. At that time, we submitted a proposal to reopen the access and access was restored, but now it has been shut down again," said Daw Khin Saw Wai, a Pyithu Hluttaw member from Rathedaung Township. "We think that it shouldn't be like this at all."

U Pe Than, the Pyithu Hluttaw member for Myebon Township, said the internet blackout has proved detrimental to the daily workings of civil society groups, entrepreneurs and government departments alike.

He added that it also makes it more difficult for the media to report on the situations people are facing in conflict-affected areas. All nine of the townships now denied mobile internet access have seen fighting over the past year between the military and the Arakan Army ethnic armed group.

Without online recourse, there are concerns that the "fog of war" has thickened, bringing attendant dangers for civilians in western Myanmar.

"More people can be accused of having links with armed groups and can be arrested [with the internet blackout], but when the media are monitoring the news, it is hard to comment like that" with certainty, U Pe Than said. "The situation can get worse without internet access. There can be more violations of human rights."

Internet access was cut without advance notice on June 20 last year in Buthidaung, Maungdaw, Rathedaung, Ponnagyun, Kyauktaw, Mrauk-U, Minbya and Myebon townships in Arakan State, and Paletwa Township in Chin State.

On September 1, access was restored in five townships: Buthidaung, Maungdaw, Rathedaung, Myebon and Paletwa — the same townships where the ban was reimposed this week.

There are more than 100,000 internally displaced people (IDPs) across Arakan State, a majority of them in townships where internet access has been cut. Many contend that the loss of internet access deprives those affected of valuable information and leads directly and indirectly to additional hardship.

If, for example, IDPs required food supplies in the past, information was posted on the internet in order to seek out donors. Without internet access, opponents of the ban argue that such appeals for aid cannot be widely shared anymore, resulting in fewer donations received by IDPs who are already struggling to make ends meet in the face of food shortages and other challenges.

Activists including Arakanese lawmakers U Oo Hla Saw and Daw Htoot May demonstrated in Yangon on December 24, demanding that the government restore internet access to all of Arakan State.