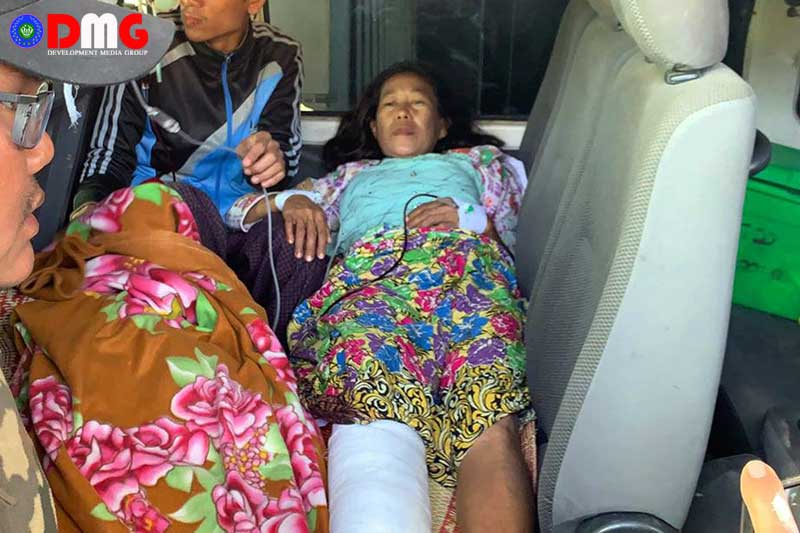 Win Nyunt, Myat Swe | DMG
7 February, Rathedaung
Four women from two villages in Rathedaung Township, Arakan State, were reportedly injured by artillery fire on the evening of February 6, according to family members of the victims.
Two women from Yay Boke village — identified as Daw Yin Kyawt Nu, 47, and Ma Poe Phyu Thein a.k.a. Soe Tin Mar, 18 — suffered leg injuries when an artillery shell landed on the house they were inside. Daw Yin Kyawt Nu's condition is considered life-threatening as both the bones of her lower leg were broken, her sister Daw Oo Ma Sein told DMG.
"They were hiding in the house when they heard an artillery shell explosion. An artillery shell fell on their house," she said.
Nearby Saut Khat village was also hit by an artillery shell, which injured 70-year-old Daw Ma Bon Gyi and 28-year-old Daw San Khin Chay.
"San Khin Chay told me that she suffered eye pains. We are making necessary arrangements to send her to Rathedaung's hospital," said her husband, U Soe Hlaing.
Family members of the victims alleged that the artillery shells were fired from a Tatmadaw Navy vessel anchored in a creek near Htee Swal village.
"A Tatmadaw contingent escorted by a military ship entered the village. My mother suffered a shoulder injury from an artillery shell fired by the military ship while attempting to rush to the bomb shelter," said Ko Kyaw Naing, son of Daw Ma Bon Gyi.
DMG attempted to call Colonel Win Zaw Oo, a spokesperson for the Tatmadaw's Western Command, to ask about the accusations made by family members of the victims, but his mobile phone was turned off.
Those family members and other villagers who were contacted by DMG said there was no fighting between the Tatmadaw and Arakan Army (AA) near the villages hit by artillery fire on Thursday. Khaing Thukha, an AA spokesperson, confirmed that there had been no hostilities between the two sides near the villages on the day in question.
Many residents from the Rathedaung Township villages of Saut Khat, Yay Boke, Yay Myet Chaung and Htee Swal have fled their homes for safer locations due to recent clashes between the Tatmadaw and Arakan Army.
Rathedaung is one of nine townships across Arakan and Chin states where mobile internet access has been cut off. Since the government reimposed the internet blackout in five of those townships less than a week ago, locals said fighting between the military and the AA ethnic armed group has intensified, resulting in a large number of civilian casualties.