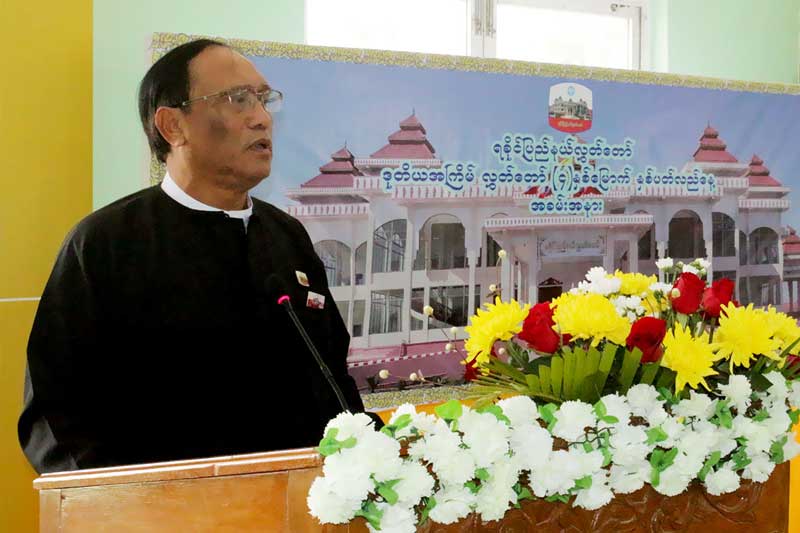 Nay Yaung Min | DMG
February 10, Sittwe
 
Arakan State Hluttaw Speaker U San Kyaw Hla said authorities have been very slow to implement proposals approved by the regional legislature, describing the lag as a democratic deficiency.

The "Rakhine State News" social media page, which provides information on the state Hluttaw, published the speaker's remarks, which were delivered on February 10 at a celebration marking the 4th anniversary of the opening of the 2nd Arakan State Hluttaw in 2016.

U San Kyaw Hla said that most of the questions posed by MPs during sittings of the legislature were about regional development. He said that over the past four years, 751 starred questions and 359 non-starred questions were submitted, 65 were approved and six were recorded.

The speaker commended the performance of the Hluttaw at Monday's anniversary celebration, which was also attended by the deputy speaker, MPs, members of the state government including cabinet minister U Kyaw Lwin, and Hluttaw advisors.

The 2nd Arakan State Hluttaw was strongly influenced by the Arakan National Party, which won a majority of the chamber's elected seats in the 2015 general election. U San Kyaw Hla was among the ANP lawmakers emerging victorious in the 2015 vote.