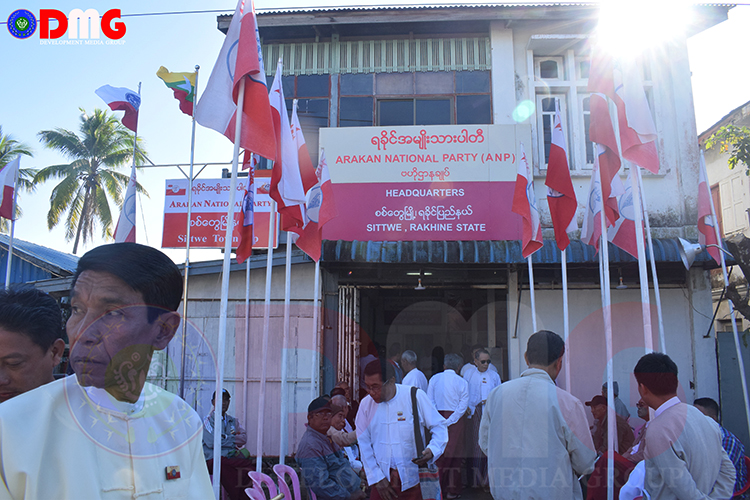 Khin Tharapy Oo | DMG
2 March, Sittwe

The Arakan National Party (ANP), Arakan State's dominant ethnic political party, aims to stand for elections in other regions and states if the 2020 poll cannot be held in war-torn parts of Myanmar's westernmost state, ANP Secretary U Khaing Pyi Soe told DMG.
"To be able to validate the party, we decided to compete in the election in any way," said U Khaing Pyi Soe.
According to the Political Parties Registration Law, if a party cannot field candidates in at least three constituencies, its registration shall be annulled. With the fate of the vote in Arakan State still unclear, the ANP has decided to compete in the election at the base-level threshold required to remain on the registry at minimum, but has yet to choose the constituencies in which it will field candidates.
The Tatmadaw and Arakan Army have clashed across several Arakan State townships in recent months, prompting concerns that the election slated for November may not be held in conflict-affected parts of the state.
The Union Election has not yet officially announced whether elections will be held in these townships.
"It depends on the government, whether the conflict-affected areas can hold elections or not," the ANP secretary noted. "I think the election commission should officially announce now whether the election can be held in the conflict-affected areas or not."
The ANP put forward candidates for the 2015 general election in Arakan and Chin states, as well as in Ayeyarwady Region. The party won a majority of elected seats in Arakan State, but it was denied the opportunity to form the state-level cabinet by the National League for Democracy-led Union government, which exercised its constitutional prerogative to choose the Arakan State chief minister. Chief ministers choose their subordinate ministers in every state and region.
National League for Democracy (NLD) spokesperson Dr Myo Nyunt told DMG in January that some townships in Arakan State might not be able to hold elections later this year, while stating that the vote would likely proceed as planned in at least some of the state's 17 townships.