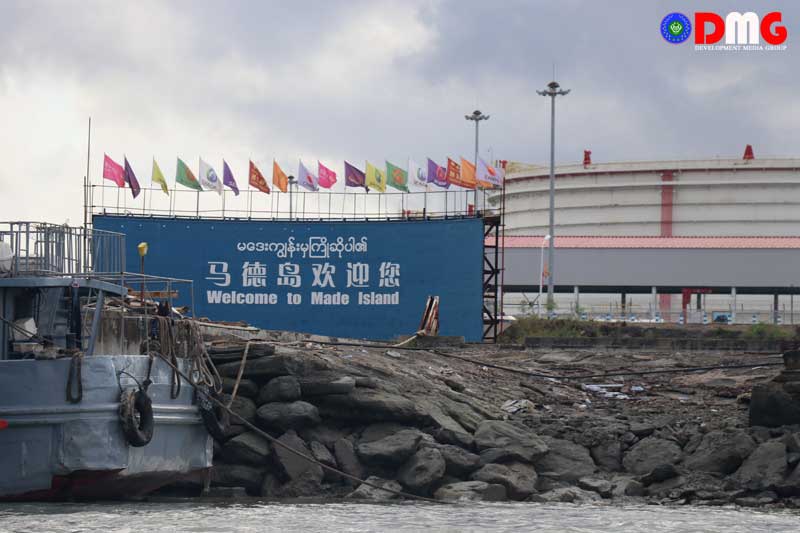 Khaing Min | DMG
March 22, Kyaukphyu

A public meeting was held on March 20 regarding the Special Economic Zone (SEZ) that is to be implemented in Arakan State's Kyaukphyu Township, with locals afterward releasing a statement that included five demands.

The demands were articulated so that local populations are not negatively affected by the SEZ project, and include recognition of existing land-sharing custom according to law; meeting with locals to reach an agreement before starting to build the SEZ; creating job opportunities for fishermen whose work has been affected by construction of the deep-sea port; and examining trade and registration issues related to the ownership of tidal mangrove forests claimed by locals.

The final demand calls for a suspension of construction on the deep-sea port and related procedures at Kyaukphyu until agreement is reached on the five-point entreaty as a whole.

Friday's meeting was attended by some 500 people including lawmakers, political parties, civil society organisations and local residents.

"Now the fishing grounds have been damaged. If you build the deep-sea port they [fishermen] worry that their fishing grounds will be lost or further damaged. If it is damaged, they demand that job opportunities be created to replace their fishing grounds" as a source of livelihood, said Ko Tun Kyi, a committee member of Kyaukphyu SEZ Watch Group, a civil society organisation.

Many who earned a living farming or fishing have already lost their jobs due to the SEZ project, locals from Maday Island said.
"It will be a problem for fishermen when ships enter the port. That's why they [the port developer] should take responsibility and be accountable for it," said Maday Island resident U Khin Maung Nyunt. "They should arrange for us systematically to catch fish farther from the shore if we aren't allowed to work near the shore."
Echoing one of the demands put forward last week, he added that the project needs to create additional job opportunities for locals.
According to the Ministry of Commerce, investors are still negotiating matters related to implementation of the Kyaukphyu SEZ's first phase, which is slated to cost US$1.3 billion.
Deputy Commerce Minister U Aung Htoo has said the Chinese company CITIC will hold a 70% stake in the Kyaukphyu SEZ project and the Myanmar government will have the remaining 30%. CITIC will hold 51% of the deep-sea port, while the Myanmar government will have 49%.
The Kyaukphyu SEZ is to include a deep-sea port, industrial zone and housing estate, and will use more than 4,200 acres of land: over 600 acres for the deep-sea port, over 2,400 acres for the industrial project and over 1,200 acres for the housing project.