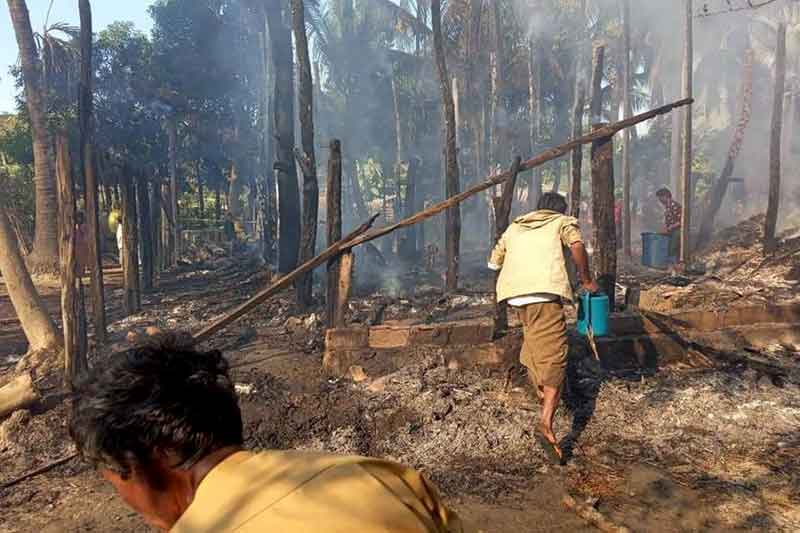 Win Nyunt | DMG
25 April, Sittwe
The Department of Disaster Management is providing financial assistance to homeowners whose houses have been destroyed by conflict in Arakan State, according to the state department's director, U Win Zaw Htay.
Conflict-related destruction of a residence, whether caused by the flames of war or an errant artillery shell, is eligible for reimbursement if a claim is filed by the homeowner, U Win Zaw Htay told DMG. The department will provide K100,000 (US$71) for a destroyed bamboo house, K200,000 for a wooden house and K300,000 for a brick house, he said.
The department reported that it provided more than K90 million for over 500 houses that were destroyed by fire at Tinma village in Kyauktaw Township due to clashes that occurred there on March 22.
But owners of some of the destroyed homes in Tinma village are not satisfied with the financial support being offered, saying the monetary assistance is too meagre.
"It is not possible to rebuild our homes with amounts of K100,000, K200,000 and K300,000 respectively. How can we rebuild our homes destroyed by Tatmadaw artillery shells and set on fire by Tatmadaw troops with that very limited amount of assistance from the department," said an anonymous resident of Tinma village.
Currently, villagers of Tinma and nearby settlements who have lost their homes are taking shelter at schools, monasteries and IDP camps in the area. Many express a desire to return home but an equally powerful fear of what might befall them if they do.
"We want to stay at home but no one dares to return home because of security concerns," said Ko Oo Tun Thein, a resident of Tinma village.
Conflict between the Tatmadaw and the Arakan Army has resulted in more than 150,000 IDPs across Arakan State, many of whom have seen their homes damaged or destroyed by the warring parties.