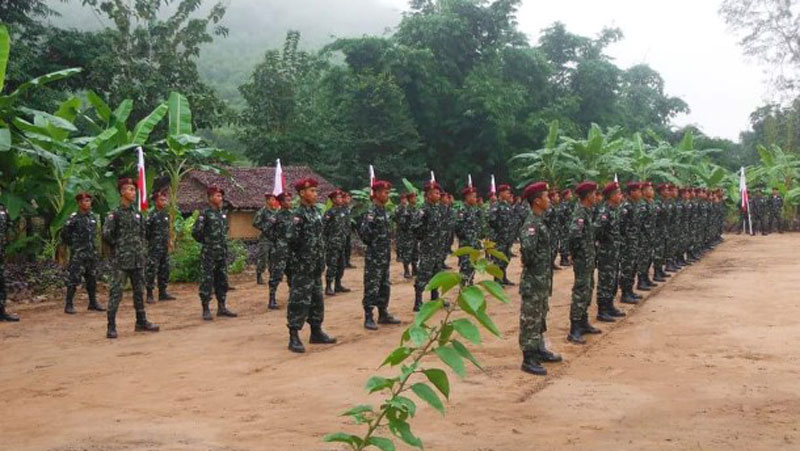 Khin Tharaphy Oo | DMG
25 April, Sittwe
The Arakan Liberation Party (ALP) has been conducting a public awareness campaign and distributing supplies in a handful of Arakan State townships to help prevent the spread of COVID-19, but the party says it needs additional funding to reach the remaining townships.
In addition to getting information about the deadly virus to residents, the ALP has been providing facemasks, soap and hand sanitizer in Mrauk-U, Minbya, Rathedaung and Sittwe townships since March 27, according to Saw Mra Yarzar Lin, a member of the ALP's Central Executive Committee.
"We want to carry out these activities for the whole state but we don't have enough funds," she said, adding that fundraising was underway to extend the reach of the party's coronavirus preventive measures.
Saw Mra Yarzar Lin said a ceasefire between the Tatmadaw and the Arakan Army was needed as part of efforts to mitigate the threat of COVID-19 contagion.
"People from war-affected areas do not know if they should be scared of the virus spreading or war. They are facing [both] risks to their lives. Some IDP camps are facing water shortages. They do not have water even to drink, let alone to wash their hands," she said.
Making life more difficult for IDPs, provision of humanitarian assistance has been restricted by the government, which has cited security concerns in prohibiting access to some war-affected parts of Arakan State.
The ALP has therefore suggested that the government allow relief aid organisations unfettered access to IDP camps during the coronavirus pandemic.