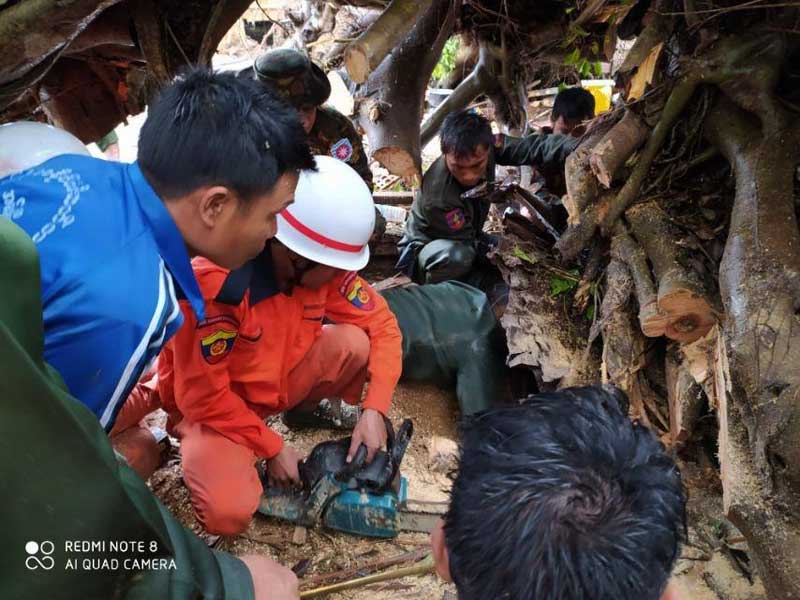 Win Nyunt | DMG
28 May, Sittwe 
One person was killed and two others were injured when a banyan tree near Ann Airport fell down in strong winds on the morning of May 28, according to the Arakan State Fire Services Department. 
The large tree fell on a hut at the airport's Gate (2) and members of the Ann Township Fire Services Department rescued those trapped under the tree. 
The two injured are receiving medical treatment, the Arakan State Fire Services Department said. 
Sixteen houses and a community hall for Buddhist religious activities in Thalumaw village, Ann Township, were damaged during the windstorm, village administrator U Khin Maung Win told DMG. 
"Roofs of houses were torn off. … There were no reports of injuries," he said. 
On July 27, 2019, 14 houses were destroyed when a tornado tore through Rammar Kyun village in neighbouring Gwa Township, though no one was hurt. 
Last week, the Department of Meteorology and Hydrology's director general, Kyaw Moe Oo, told DMG that the southwest monsoon would advance across southern Arakan State and into central and northern Arakan at the end of May. He warned people living near rivers to be alert to the possibility of flooding over the coming weeks.