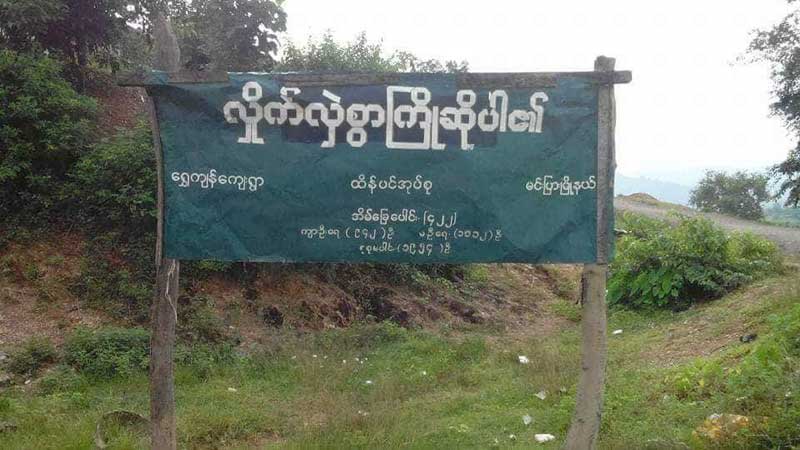 Myat Swe | DMG
29 May, Minbya
A resident of Shwe Kyan village in Minbya Township was seriously injured when he stepped on a landmine while heading to a hill to cut bamboo on May 28, family members said. 
U Thar Tun Aye, 53, was going to Sat Pyar hill, about 2 miles from the village, to cut bamboo for a home construction project, his wife Daw Thein Khaing May told DMG.
"He has a phone. Once he stepped on the landmine, he called us. We went and took him from the hill. His left leg was severed from the knee," she said.
U Thar Tun Aye has been receiving medical treatment at Mrauk-U Hospital. Their family earns money harvesting bamboo from the forests around Shwe Kyan village, and Daw Thein Khaing May said they were in dire financial straits after the landmine incident. 
"We do not have money. We came to the hospital with K50,000 [US$37] that the village authorities gave after they collected it as donations from villagers. I wish he recovers as quickly as possible," she said.
Clashes broke out near Shwe Kyan village early this year and on January 19 an explosive remnant of war injured eight people, including three children, said village administrator U Nyo Maung Thein.
Also on May 28, a 23-year-old resident of Thaung Pyin village, Myebon Township, was killed in a landmine encounter on his way to cut bamboo outside his village. 

Thursday's incidents were the latest of several landmine tragedies involving members of rural populations in war-torn parts of Arakan State who have met similar fates after venturing from the relative safety of their villages to tend to livestock, forage for food or gather firewood. 

The Rakhine Ethnics Congress has said that while landmines in the past were typically encountered in forests or elsewhere far from residential areas, they increasingly are being reported closer to villages.