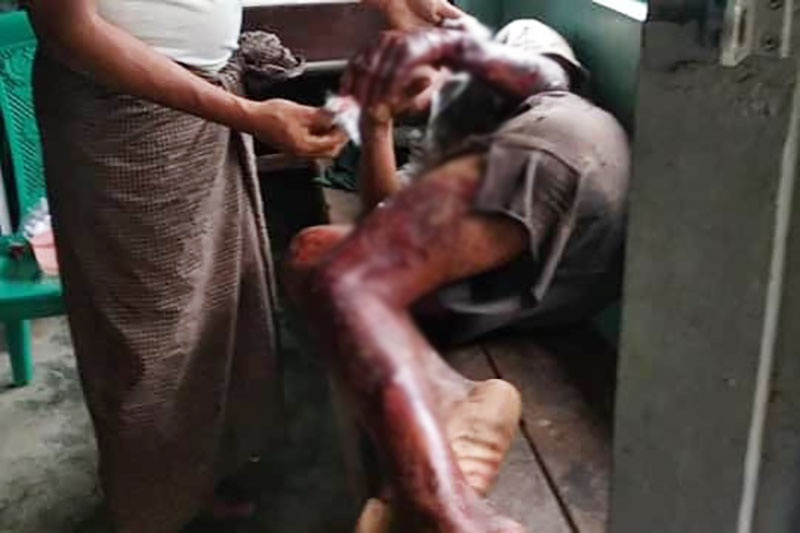 Aung Htein | DMG
30 July, Ann

A landmine killed a villager outside Jade Chaung village, Ann Township, on July 29, and another landmine nearby killed a second man and injured a third the next day when they went to retrieve the body of the first, according to local residents.

U Maung Tin, 60, and Ko Su Per Chay, 30, were killed, while 48-year-old U San Win was seriously wounded.

U Maung Tin reportedly stepped on a landmine in his orchard 2 miles from Jade Chaung village, part of Kazukaing village-tract, on Wednesday morning, Ann town resident Ko Myo Lwin told DMG.

When U Maung Tin did not return home, family members and fellow villagers set out to search for him the following morning, he added.

"He [U Maung Tin] was found dead under a Jengkol tree when villagers searched for him on July 30," Ko Myo Lwin said.

The second landmine exploded near the body of U Maung Tin, hitting U San Win and Ko Su Per Chay, said U Khin Aung Than, administrator of Kazukaing village-tract.

"When villagers were about to bring the body of U Maung Tin, another landmine exploded and seriously injured U San Win and Ko Su Per Chay," he said.

Other members of the search party carried them to the village for medical treatment due to the severity of their injuries, but Ko Su Per Chay succumbed to his wounds on the way, said U Khin Aung Than.

U San Win was admitted to the military hospital in Ann Township.

Many villagers in Kazukaing village-tract are farmers who say they are now worried about their safety and the risks of working their fields due to increasing landmine encounters and a concomitantly rising death toll.

One woman and three men from Thae Kan Htauk village, also part of Kazukaing village-tract in Ann Township, were wounded when two artillery shells landed and exploded in and near the village on July 26.

Clashes between the military and the Arakan Army have flared with regularity in western Myanmar since late 2018, and the number of civilians killed or wounded by landmines, errant artillery fire or other combat-adjacent violence continues to climb.