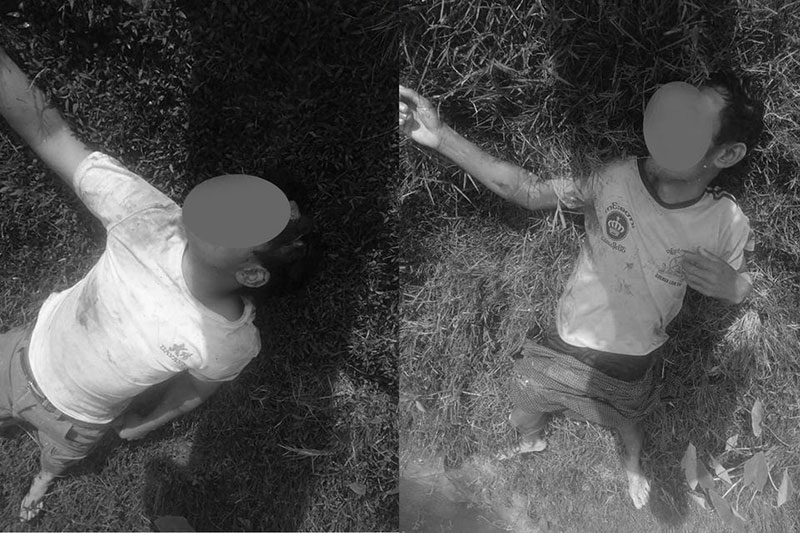 Hnin Nwe | DMG
4 September, Kyauktaw 
The bodies of two villagers from Phayarpaung village in Kyauktaw Township, Arakan State, were found with gunshot wounds on the morning of September 4, said family members of the deceased. 
The victims have been identified as Maung Nyunt Win, 27, and Ko Kan Maung Thein, 35, both from Phayarpaung village, which the military has been accused of setting ablaze on September 3. 
The duo was arrested by a military column while on their way back home from a workshop in Kyauktaw town at about 6 p.m. on Thursday, according to family members. 
U San Tun Hla, the father of Ko Han Maung Thein, said: "The military column took both of them as guides. The military column entered the village after putting them on the front line. The military column encountered a mine attack near Phayarpaung village. At the time, a bomb exploded near the village. My son was shot dead by the army, claiming that they are suspicious." 
The bodies of the two men were sent to Kyauktaw Hospital before being cremated on September 4. 
At around 9:30 p.m. on September 3, houses in Phayarpaung and Taungpauk villages were set on fire, the villagers said. U San Hla Tun's house in Phayarpaung village was among the homes that burned down on Thursday night. 
"Since I got married 20 years ago, I have been collecting property. Now I am over 60 years old. My properties have burned down. There is nothing left. ... I have no house to live in. I have nothing to say as I lost my son," U San Tun Hla said. 
The military has denied setting the houses on fire. 
At a press conference in Nay Pyi Taw on September 4, Brig-Gen Zaw Min Tun of the Tatmadaw True News Information Team said: "The Arakan Army carried out a remote mine attack on a vehicle transporting police members who will perform duties at Apaukwa police station in Kyauktaw Township, at around 6:30 p.m. yesterday. The mine attack occurred about 4,000 metres south of Kyauktaw town. Two police members were injured in the mine attack."  
He added: "The AA also attacked the same vehicles on their way back. The bodies of two insurgents and one gun were seized." 
DMG was unable to contact the Arakan Army for comment as the government has declared the ethnic armed group to be a terrorist organisation, making contact with the group legally perilous.