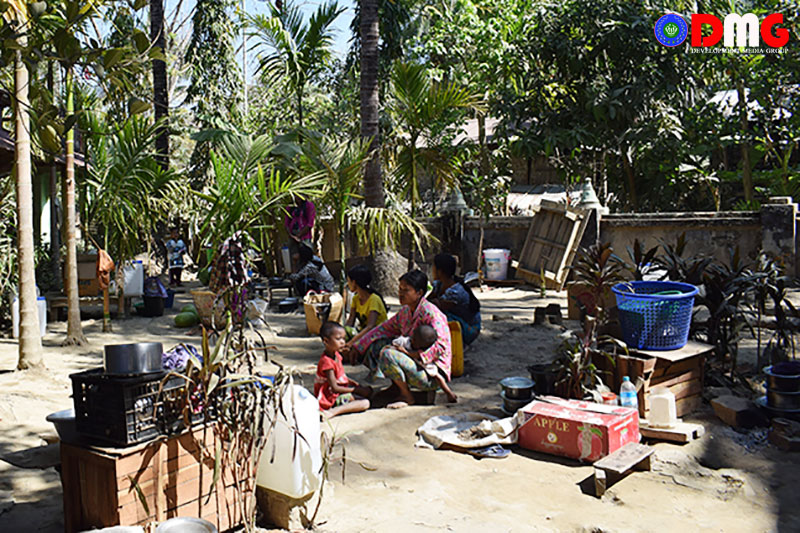 Myo Thiri Kyaw | DMG
6 September, Sittwe 
More than 300,000 "grassroots" households in Arakan State will be provided with about K1.82 billion (US$1.37 million) amid the ongoing coronavirus pandemic, with the financial assistance being the second round of its kind, according to the Arakan State government. 
The Ministry of Health and Sports has issued stay-at-home orders in all 17 of Arakan State's townships in an effort to curb the spread of COVID-19, as cases have risen dramatically since mid-August. 
Cash assistance will be supplied to eligible households to purchase rice at a time when many are experiencing livelihood hardships due to the stay-at-home order, said U Win Myint, spokesperson for the Arakan State government. 
"I want the government to provide the grassroots with financial contributions amid the virus pandemic," he added. 
The state government previously gave cash assistance to around 30,000 households with  irregular incomes, with K20,000 provided per household on August 25 and the total amounting to K598.1 million.  
The government's provision of rice to the grassroots is much appreciated amid a scarcity of jobs during the pandemic, said U Hla Maung Shwe, a three-wheeled motorbike driver. 
"Six pyis of rice [about 7.5 kilogrammes] can sustain us for about two weeks. We are pleased with the government's provision of rice," he said. 
Grassroots households that didn't receive adequate government financial assistance in the first round should be fully provided for this time, said Ko Kaung Myat San from Sittwe's Setyonesu Ward. 
"I didn't receive K20,000 adequately the first time. I want to get the government's rice provision fully the next time," he said.  
The number of coronavirus-positive patients continues to rise in Arakan State amid growing concern about a recent surge in locally transmitted COVID-19 cases.