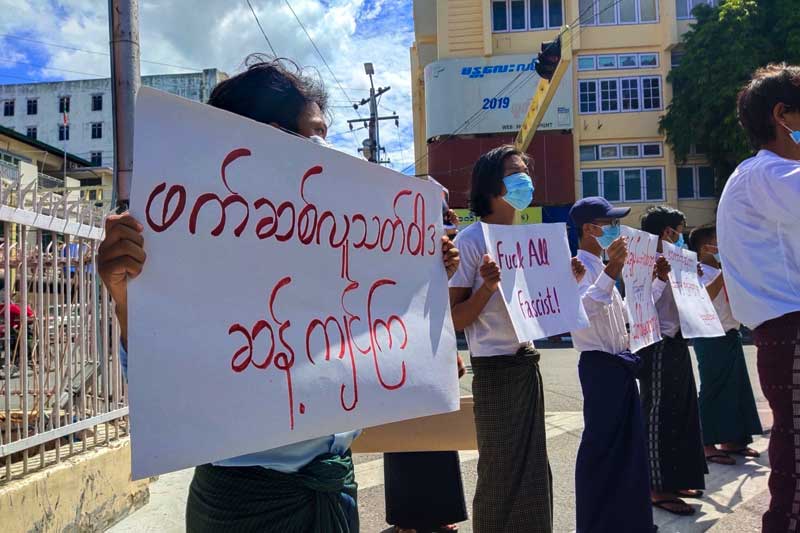 Aung Htein | DMG
11 September, Mandalay
A student who participated in a protest in Mandalay opposing human rights violations in Arakan State has been arrested, according to an official from the All Burma Federation of Student Unions (ABFSU).
About 10 police officers took Ko Myo Chit Zaw in for questioning at about 8 p.m. on September 10, said Ko Htoo Khant Thaw, secretary of the ABFSU.
Following investigation, Ko Myo Chit Zaw aka Ko Ba Chit was told to sign a pledge, but he refused to sign it and was subsequently arrested, said Ko Htoo Khant Thaw.
"He was urged to sign the pledge. It was arranged that if he signed the pledge, he would be released. However, as we are students from the ABSFU, we will not sign the pledge for the Myanmar Peaceful Assembly and Peaceful Procession Law. Because of that, he was arrested," the secretary added.
The Mandalay student demonstration on September 10 protested alleged military misconduct in Arakan State. Protesters also demanded the full restoration of 4G mobile internet access in parts of Arakan and Chin states that have been deprived for more than a year.
Ko Myo Chit Zaw, from the Yadanarbon University Student Union, is being detained at the No. 6 police station in Mandalay. Charges have been brought against him under Myanmar's Natural Disaster Management Law in addition to the Peaceful Assembly and Peaceful Procession Law, Ko Htoo Khant Thaw said.
A total of 13 students who joined the protest have had cases opened against them under Section 19 of the Peaceful Assembly Law, according to the federation. 
"It is intended so that we don't have any rights to note matters related to the military in Myanmar. So, all 13 students who participated in the protest yesterday are facing lawsuits. We don't think it is appropriate. In fact, we noted the actual situations on the ground," said Ko Htoo Khant Thaw. 
On September 9, three students from the Arakan Student Union who staged a protest in front of the Arakan State government offices were arrested. Cases were opened against them under Section 25 of the Natural Disaster Management Law at the Sittwe Township Court on September 10.