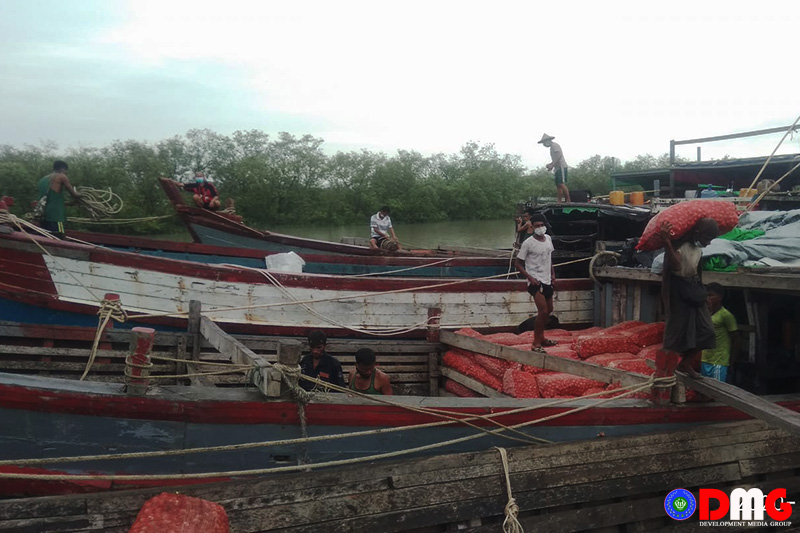 Kyaw Myo Aung | DMG
23 October 2020, Maungdaw  
Six boats loaded with illegal goods and timber destined for Bangladesh have been seized by authorities in Arakan State's Maungdaw Township, with three boatmen aboard testing positive for COVID-19. 
The local Border Guard Force reportedly intercepted the six motorboats at the mouth of the Naf River in Maungdaw Township from October 14-19.
Of the six, one boat was carrying 11 tonnes of timber and another was transporting 1,150 sacks of dried fish, according to the Maungdaw Township General Administration Department.
Three other boats were found with more than 1,000 bags of onions each, and the sixth was loaded with general cargo.
Border guard stations at Magyi Chaung, Pyin Phyu and Alae Than Kyaw have arrested 37 people on board the vessels and filed cases under Section 25/30 (a) of the Natural Disaster Management Law, according to the Maungdaw Township Court.
Out of 15 of the detainees who were administered rapid test kits, three were found to have been infected with COVID-19. The remaining 22 will also be tested, according to Dr. Nu Kay Thi San, assistant director of the Maungdaw Township Health Department.
An indefinite shutdown of border trade at the trading station in the Arakan State capital Sittwe due to the coronavirus pandemic has given rise to illegal trading, merchants say.