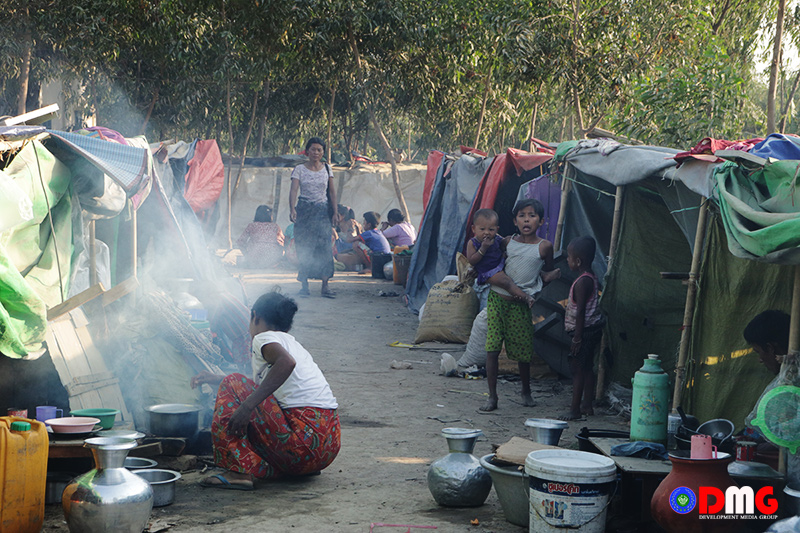 Hnin Nwe  | DMG
3 November 2020, Sittwe 
With fighting between the Tatmadaw and the Arakan Army approaching its unofficial two-year mark, the number of internally displaced people (IDPs) in Arakan State has surpassed 236,000, according to figures from the Rakhine Ethnics Congress. 
The number of Aarkan State IDPs jumped by 9,425 in just over a month, said the REC, a civil society organisation. A total of 226,804 IDPs were recorded on October 1 and the figure rose to 236,229 as of November 2, according to the REC, which has been collecting data on IDPs. 
The increase in IDPs last month was primarily attributable to clashes and heavy arms fire from Tatmadaw boats travelling river routes in central Arakan State, said REC secretary U Zaw Zaw Tun, with villagers from Minbya, Rathedaung, Pauktaw and Buthidaung townships fleeing their homes for the perceived safety of IDP camps or other shelter.   
"There are those who do not head for the camps but stay at nearby places. They are not getting any assistance. Instead, they are relying on things they have brought along," U Zaw Zaw Tun said. "Because it is the time of the COVID-19 pandemic, it is difficult getting donations to reach them and their livelihoods are in a dire condition." 
The REC secretary said IDPs also had difficulties getting treatment for seasonal illnesses like the flu due to the pandemic. 
Ma Soe Nyein Aye from Thaungdayar village, who is staying in an IDP camp at Myo Oo Monastery in Rathedaung town, said she was worried after hearing gunfire in her vicinity at a time of widespread livelihood hardship. 
"Accommodation is alright here. However, food is not good. We are worried when we hear the gunfire, not knowing where it will hit," she said. 
While some IDPs are new to the Myo Oo Monastery camp, others are long-term residents. More than 300 villagers from Yeboat, Maung Phyu and Thaungdayar villages in Rathedaung Township have been staying at the monastery since military columns entered their villages and heavy arms fire flared in late 2019 and early 2020. 
Northeast of Rathedaung in Kyauktaw Township, motor vehicles have been unable to visit the Nyaung Chaung IDP camp due to COVID-19 travel restrictions and fighting along the route, effectively cutting off donor deliveries. Women's health in the camp has suffered as a result, said Ma Hla Yi, an IDP.  
"Women are in need of clothes and feminine hygiene products. In the past, donors came in cars and gave us these things. Now, the donors dare not come as the vehicles cannot come into the village due to restrictions and fighting along the way," she said. 
Altogether 154,012 IDPs are displaced to locations outside the camps in Arakan State, while the rest are spread out across a total of 168 camps, according to REC data.