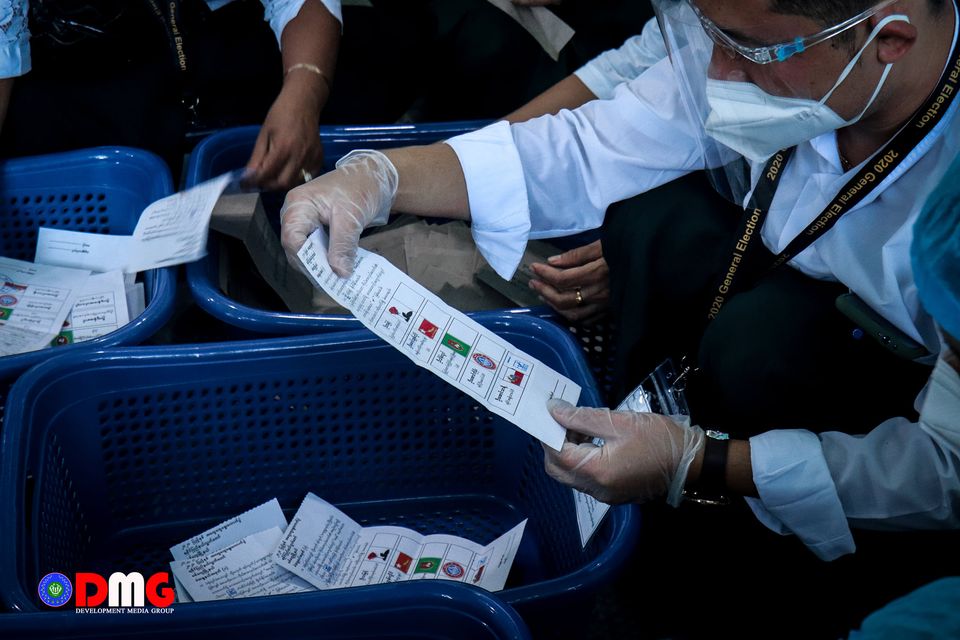 Kyaw Thu Htay | DMG
10 November 2020, Sittwe  
Not a single independent candidate has won a seat in Sunday's general election in Arakan State, where altogether 18 had contested.   
U Mya Than, an independent candidate for Ann Township's Constituency No. 1 in the Arakan State legislature, said the township's heavily circumscribed election — only four wards and eight village-tracts were allowed to vote — and the concentration of those constituencies in military areas had prevented his success at the polls.      
"To speak frankly, this is not fair. All the votes from the military went to the Union Solidarity and Development Party (USDP). That is why we lost," said U Mya Than, who is also the outgoing deputy speaker of the Arakan State parliament, or Hluttaw. 
Widely viewed as the military's proxy party, the USDP is claiming victory in all three of Ann Township's races.  
U Kyaw Lwin, another independent candidate who contested the Amyotha Hluttaw's Constituency No. 1 seat, blamed his loss on not having the financial resources that political party-backed candidates were able to put into their races.  
"The main thing is the name 'independent'. Others can spend a lot of money. However, I could not. We went into the election with only purpose; that is, our reputation for sincerity and genuine national spirit. Those who could spend won," he said. 
In the Arakan State Hluttaw, there were a total of 12 independents vying for seats in seven townships: three in Manaung, one in Ramree, two in Ann, one in Sittwe, one in Gwa, one in Taungup and three in Thandwe. 
Two independent candidates from Manaung, and one each from Gwa and Thandwe townships contested seats in the Pyithu Hluttaw. In the Amyotha Hluttaw, one candidate ran for Arakan State's Constituency No. 1 and another sought the seat representing Constituency No. 11.  
Initially, across the three Hluttaws and including Arakan State's Chin ethnic affairs minister post, a total of 42 independent candidates had registered to contest the 2020 general election. But that number fell as elections in nine townships and several wards and village-tracts elsewhere in Arakan State were cancelled.