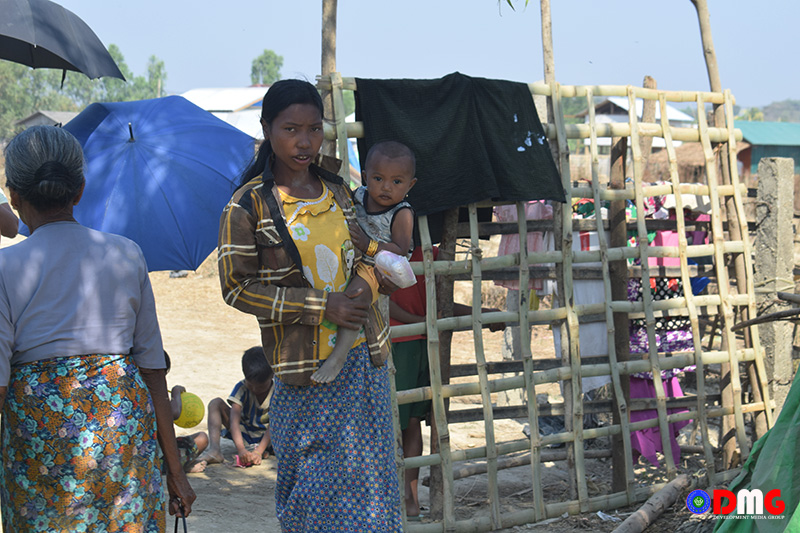 Nyan Hein | DMG
25 November 2020, Sittwe 
Arakanese people, who have recently returned to their homes from displacement camps following a de-escalation of fighting in the region, say they hope present conditions are not just a lull before another round of renewed clashes. 
Displaced people (IDPs) have been returning to their homes in some parts of northern Arakan State as no clashes have taken place between the Myanmar military and the Arakan Army (AA) since the November 8 general election. 
Some 1,500 locals from Kanpyin village who had been sheltering at an IDP camp in Kyet Yoe Seik village, Rathedaung Township, returned to their homes on November 15, said Kanpyin village administrator U Maung Tun Sein. 
"We locals do not want clashes. Because of clashes, we had to flee from our homes, we lost our cattle and livelihoods. We want to urge both sides to stop fighting," he told DMG.  
Kanpyin villager U Oo San Tin said: "We are worried that there would be fresh clashes. It is harvest time now. We will run into serious troubles if we farmers can't harvest paddy." 
Rathedaung Township's Lower House lawmaker Daw Khin Saw Wai called for dialogue between the two sides to establish a permanent truce.  
"[The AA] issued a statement calling for holding elections in nine townships where voting could not be held [on November 8], and the Tatmadaw welcomed it. There has been no clash since then. The statements of the two sides are good prospects for peace," she said. 
Similarly, more than 2,000 displaced people from several villages who had once fled to urban areas of Kyaukphyu returned to their homes on November 19.  
The secretary of the Rakhine Ethnics Congress (REC), Ko Zaw Zaw Htun, said the government should provide aid to returning IDPs for their rehabilitation, and also to ensure their safety. 
"For returnees to restore their livelihoods, they need financial assistance. And there must be safety on their way back home. If there are mines in their villages, they must be cleared before the villagers return," he said.   
Notably, the recent home returns of IDPs represent a relative trickle: According to the REC, the number of IDPs in Arakan State had surpassed 236,000 as of November 2.