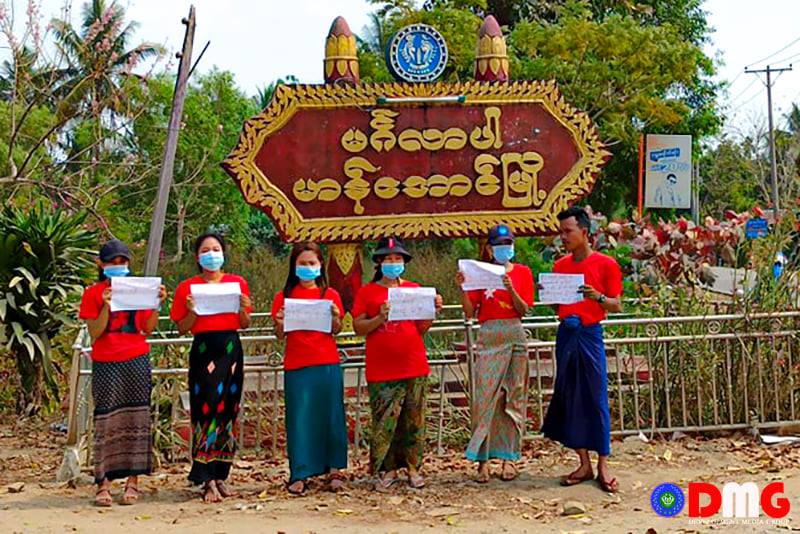 DMG Newsroom
7 February 2021, Manaung

Three youth members of the National League for Democracy (NLD) in Arakan State's Manaung Township said local police attempted to make them sign pledges agreeing not to protest any more, after they staged an anti-coup demonstration over the weekend.

Six NLD youths protested on Saturday near a signpost marking the entrance to Manaung town, where they demanded the immediate release of President U Win Myint, State Counsellor Daw Aung San Suu Kyi and others detained in the February 1 military coup.

Following the protest, which lasted about 20 minutes, police arrived same-day at the homes of participants and instructed them to sign a pledge not to protest further, according to Ma Khin Htate Htar Hlaing, one of the demonstrators.

"We were told to sign the pledge. But we told them we wouldn't sign it and that we had plans to protest more," she said.

Police then brought Ma Khin Htate Htar Hlaing, Ko Han Min Soe and Ma Aye Mi Mi Khaing to the police station and told them to sign the pledge, but they again refused.

"We were told later to visit the police station. We went to the police station, where we were also ordered to sign the pledge. But we did not sign and told them they could act according to the law," Ma Khin Htate Htar Hlaing recounted.

"We do not want to live under the military dictatorship. So, we staged the protest. Police officers told us at the police station to sign the pledge. We told them we could not sign it," said Ko Han Min Soe.

He added that police did not return on Sunday to press their demands anew.