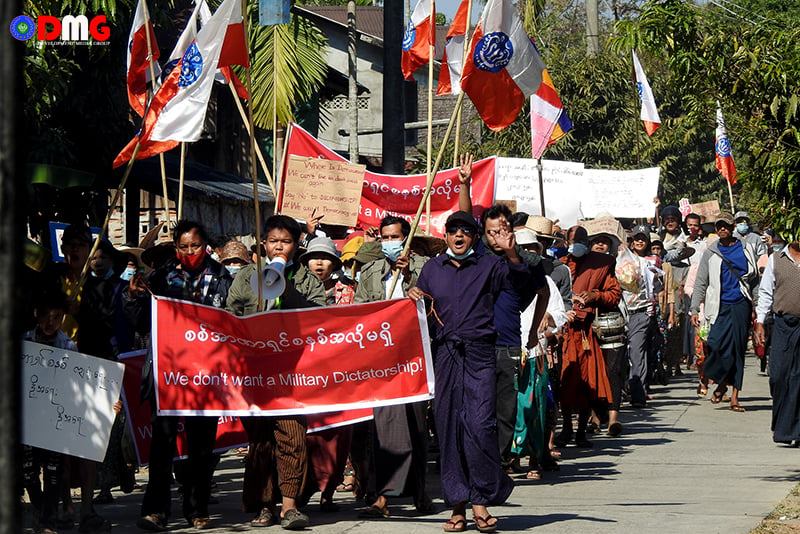 DMG News Room
February, 10 
Protests against the February 1 military coup have been met with arrests and charges by authorities in at least three Arakan State townships over recent days as discontent continues to bring thousands out to the streets in cities and towns across Myanmar. 
Arrests were made in Manaung and Taungup townships, including U Min Aung, a former National League for Democracy lawmaker in the Arakan State Hluttaw, and fellow NLD member Ko Thant Zin Phyo, who were detained after joining a protest in Taungup town on Tuesday. 
Another former state MP, U Phoe Nwe, was arrested in Manaung Township on Tuesday along with Ma Khin Htate Htar Hlaing, who was ordered by police over the weekend to sign a pledge committing her not to engage in further protest. She and others had refused to sign. 
"Police came and arrested my daughter at 7:30 p.m. I do not know why she was arrested," said U Than Wai, the father of Ma Khin Htate Htar Hlaing, adding that arresting her for expressing her opinion was unfair. 
A group of youths gathered outside the local police station on Tuesday evening after hearing that the two protestors were arrested. 
"We did not meet Khin Htate Htar Hlaing. However, U Phoe Nwe came out of the police station and told us to return home and that there was no problem. So, we returned home," said Ko Myo Lin Zaw, one of the young people who turned out to support the pair. 
Ma Khin Htate Htar Hlaing and U Phoe Nwe were released at about 10 p.m. on Tuesday. 
The following day in Manaung, four anti-coup protesters were forced by the township administrator to sign a bond stating that they would not engage in future demonstrations without first securing the permission of authorities.  
"[The township administrator] said nothing special. We are asked to seek permission under the Peaceful Assembly and Procession Law if we are to march in the future. And we were asked to sign that we would not hold unauthorised protests in the future," said Ko Khant Wai Lin, one of the four who signed the bond.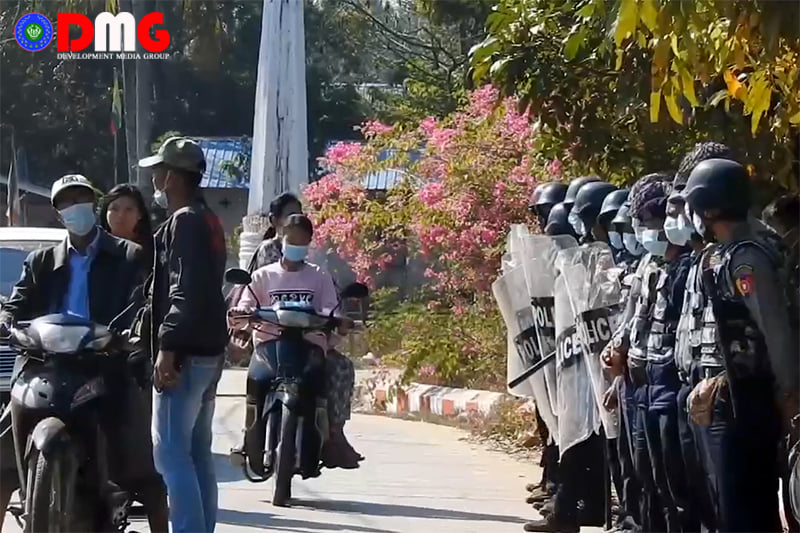 During Wednesday's protests, demonstrators in Manaung called for an end to military dictatorship and scrapping the military-drafted 2008 Constitution. 
"We are protesting not because the Tatmadaw has toppled the NLD party," said Ma Ei Saw Mon, another permission-pledge signatory. "We were for many years under military rule, and we can't accept that the military has staged a coup again while the country is undergoing democratic transition. That's why we are taking to the streets." 
Meanwhile, seven residents of Ann town, Arakan State, were charged for participating in a protest there on February 9.  
The Ann Myoma police station has opened a lawsuit against the seven protestors under Section 25 of the Natural Disaster Management Law and Section 19 of the Peaceful Assembly and Peaceful Procession Law, residents said. 
"They appeared in court at 10 a.m. on February 10. The plaintiff is the police. All detained protestors are followers, not leaders of the protest," said an Ann resident who asked for anonymity, citing safety concerns.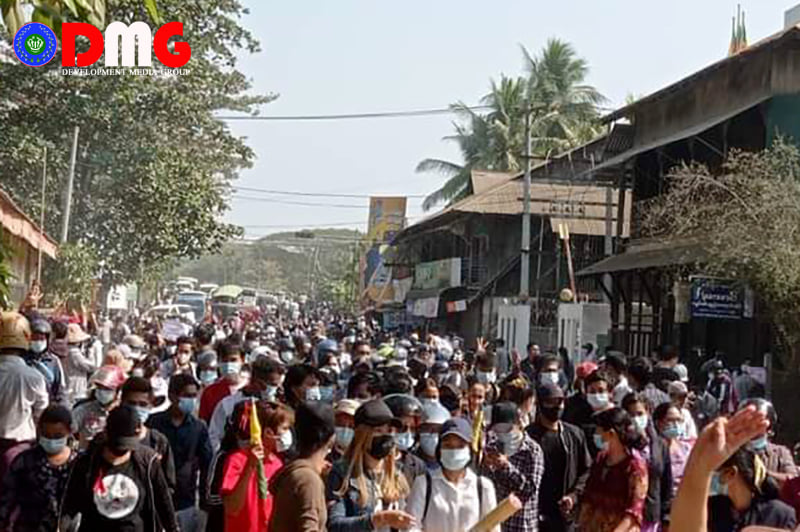 Among the seven are teachers, students and a female bank employee, who were remanded into custody for two weeks because their case does not allow for bail. Six of them were arrested on February 9 and the bank staffer was arrested the following day, residents said. The leaders of the protest are said to be in hiding as police seek to apprehend them. 
DMG phoned the head of the Ann Myoma police station for comment on the protestors, but was told he was unavailable. 
February 10 saw a pro-military demonstration staged in Ann town as well, while anti-coup protests have also been reported this week in the Arakan State townships of Thandwe and Gwa.