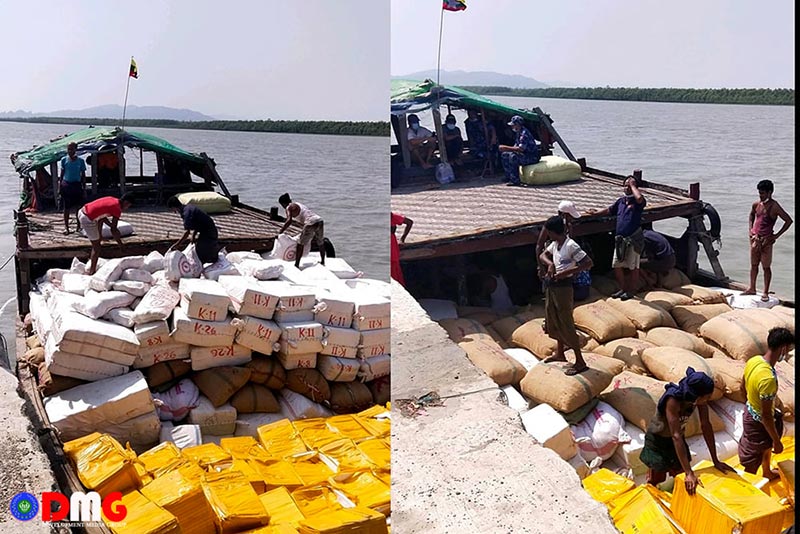 DMG Newsroom
21 April 2021, Maungdaw 
Border trade in Arakan State, which was suspended for more than 10 months due to the COVID-19 pandemic, has been allowed to resume, according to U Than Tun, a member of the Arakan State Administration Council. 
Permission was granted on April 12 to resume the Arakan border trade, he said. 
"The border trade resumption is granted in line with COVID-19 prevention regulations," he explained. "Currently, 10 commercial boats from Sittwe and six boats from Maungdaw left the jetty for trading. We have arranged a reserved place for workers from the boats to stay quarantined after their trip." 
Ko Aung Aung, a border trader, said he expected that the business fortunes of people reliant on the border trade would rebound following this month's resumption. 
"When the border trade was suspended, not only traders but also workers and manufacturers saw their businesses affected," he said. 
Onion, dried plum, dried tamarind, ginger, dried fish and velvet slippers are some of the main exports passing through trade centres in Arakan State and on to Bangladesh. 
In the 2019-20 financial year, trade valued at US$736.81 million was exported through the Sittwe border trade center and $11.55 million in goods went via the Maungdaw counterpart, according to the Ministry of Commerce. 
Sittwe border trade was indefinitely suspended after a passenger on a commercial boat arriving in the Arakan State capital tested positive for COVID-19 in June. Transnational commerce at a border trade facility in Maungdaw Township was halted the following month as pandemic concerns were raised anew.