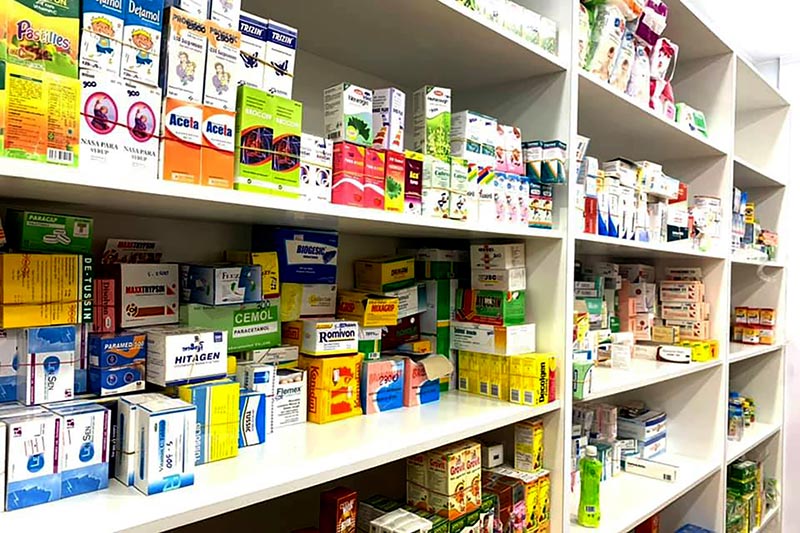 DMG Newsroom
15 July 2021, Sittwe 
With no end in sight to the Covid-19 pandemic's ongoing third wave, a shortage of basic and widely used medicines and concerns about the economic impacts of prolonged disruption to the border trade are just a few of the knock-on effects being felt across Arakan State.  
Many commonly ingested drugs and supplements, such as vitamin C, vitamin D3, zinc and paracetamol, are out of stock locally due to shortages at their mainland Myanmar suppliers, according to Ko Tun Min Oo, an administrative manager of Ekarit Ar Mahn Pharmaceutical Co. 
"During the Covid-19 pandemic, the most widely used medicines are in short supply at medical companies in Yangon," he explained. 
Ma Aye Aye Myint, an official at Diamond Pharmacy, said that during the pandemic, people are buying and stockpiling medicines due to health concerns, making demand higher than usual. 
"The locals are very worried about things these days. So it is possible that they are buying up medicines. Some drugs such as Biogesic are completely gone," she said. 
The border trade in Maungdaw Township, meanwhile, has been suspended since July 15, making life difficult for hundreds of people whose families depend on the transnational commerce for livelihood. 
"We, the cargo workers, rely on daily income. Now that border trading has stopped, our families can no longer figure out how to make ends meet," said Abu Taw Yoke, a leader of the cargo workers. 
There are more than 130 cargo workers at the Maungdaw border trade camp and about 900 dependent family members, according to the workers' representation. 
The Maungdaw border trade camp was ordered to temporarily close from July 15 to 31 by the Arakan State Covid-19 Control and Emergency Response Committee, said U Thar Tun Sein, in-charge of the camp. 
"Some cargo workers with many family members like us had only one meal when the border trade camp was shut down due to the first wave of coronavirus," said one cargo worker.  
The border trade camp has twice suspended operations previously due to the pandemic, with the most recent closure lasting from July 2020 to April of this year.