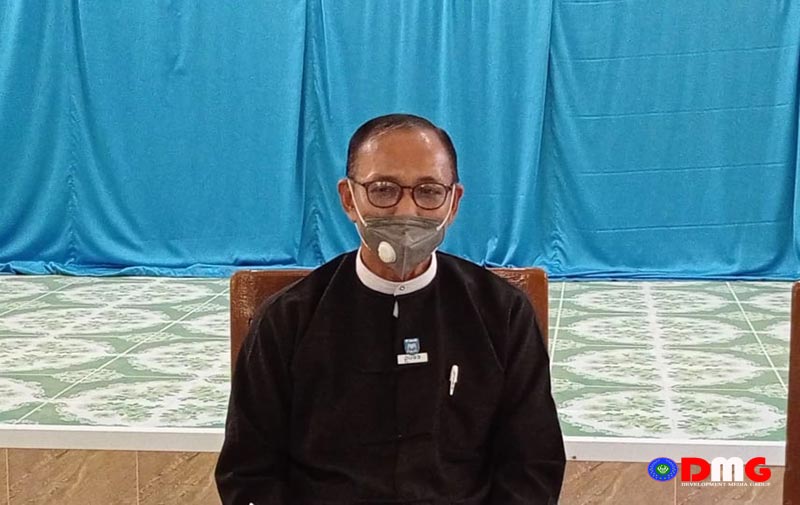 DMG Newsroom
31 July 2021, Sittwe 
Arakan State does not have enough oxygen and must rely on O2 supplies from other parts of Myanmar to treat Covid-19 patients in the state, Arakan State Administration Council spokesman U Hla Thein told reporters on Saturday. 
Some township hospitals as well as military hospitals in Ann and Sittwe have oxygen production facilities, but total production is just 150 40-liter cylinders per day, he said. 
"Lately, production at the oxygen plant in Thandwe, which can refill 40 cylinders per day, was halted after it was flooded. Currently, Sittwe Hospital alone is using 150 oxygen cylinders per day. All the oxygen produced inside Arakan State is used up by Sittwe Hospital alone," he said. 
A total of 140 oxygen cylinders from a military-run steel factory in Yangon's Hmawbi Township and an ordnance factory are delivered to Arakan State via Taungup daily, said the spokesman. 
"Excluding the costs to rent trucks and drivers, fuel alone costs 600,000 kyats to Taungup. We have to arrange three to four trucks to transport those cylinders back and forth. We divide them up in Taungup for the townships and carry the remaining ones to Sittwe," he said. 
All 17 townships in Arakan State are currently working on building oxygen plants independently, using cash contributions from residents, but it will take some time before they become fully operational, say local charities. Complaints about a lack of medical oxygen for patients in need have been widespread in Arakan State for weeks. 
U Hla Thein has called for the recently built oxygen plant in Mrauk-U to be managed by the township General Administration Department and Mrauk-U Sayadaw, an influential Buddhist monk in the town. 
The oxygen plant began production on July 21 and has also supplied oxygen to nearby townships. 
U Than Tun, treasurer of Nang Yeik Garunar, a community-based charity helping to supply oxygen in Mrauk-U, said: "We had some difficulties with oxygen production a few days ago because of a blackout in the town. The military regime has given us a backup generator. However, we haven't even touched it. We have asked for help from donors. We will buy a backup generator within a week." 
Since the beginning of the third wave of coronavirus in May, Arakan State had recorded 175 Covid-19 deaths as of July 30.  
Nationwide as of July 31, a total of 294,460 infections and 8,942 deaths were recorded since Myanmar's first case was reported in March of last year, according to the junta-controlled Ministry of Health and Sports.