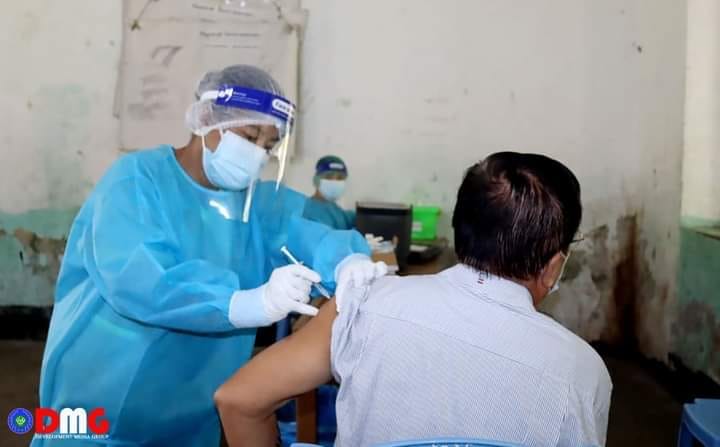 DMG Newsroom
20 September 2021, Sittwe 
Additional Covid-19 vaccines will arrive at Arakan State for more than 130,000 people, said officials of the state's Department of Public Health (DPH). 
The shipment of the Chinese-made vaccine Sinopharm will arrive on September 21, Dr. Soe Win Paing, assistant director of the state DPH, told DMG. 
The vaccines will be administered to 100,000 people in the Arakan State capital Sittwe, and 36,000 in Thandwe Township to the south, the department said. 
The vaccine will be provided for people over 55 years of age; private and government healthcare personnel; volunteers and aid workers; caregivers of the elderly; monks and nuns; civil servants; staff of private banks and financial services; workers at factories, hotels, motels and guesthouses, and restaurants; prisoners; staff and vendors at supermarkets and markets; members of ethnic armed organisations; migrant workers; IDPs; and patients with chronic diseases. 
"What I want to tell people is that they should not be careless after they are injected with the vaccine. They need to follow Covid-19 prevention regulations even though they have already received the vaccine," Dr. Soe Win Paing said. 
Health officials have said that the vaccine can prevent Covid-19 infection in 70%-90% of cases. 
More than 110,000 people in Arakan State have been injected with the vaccine since January 2021, according to the state's DPH.