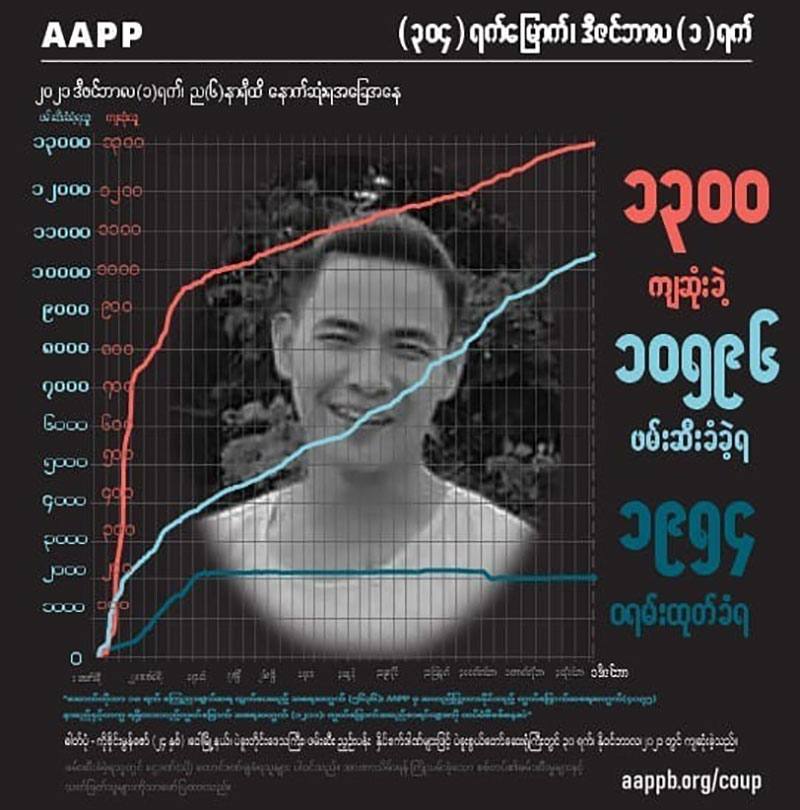 DMG Newsroom
2 December 2021, Sittwe

At least 1,300 people have been killed in Myanmar since the February 1 coup, according to a press release from the Assistance Association for Political Prisoners (AAPP) on December 1.

At least 7,668 people were detained from February 1 to December 1, of which 343 were sentenced to prison time and 34 have been sentenced to death — including two minors — according to the AAPP.

The AAPP said a total of 118 people had been sentenced to death either in person or in absentia, and 1,954 people are considered fugitives of the law under the military regime.

Ko Sai Mon Zaw in Bago Region was the 1,300th confirmed casualty, according to the human rights group. He died at a hospital on November 30 "while he was receiving medical treatment for injuries consistent with torture during interrogation," the AAPP said.

Ko Sai Mon Zaw was arrested for distributing pamphlets during an April anti-coup protest, and was released in October.

"Nothing happened on the day he was released from prison. He had two ulcers on his liver and hepatitis B, which affected his liver. He was treated at Asia Royal Hospital in Yangon, [and] Yangon General Hospital, but he succumbed to injuries at Swaltaw Specialist Hospital in Bago," a family member of Ko Sai Mon Zaw told DMG.

A Bago-based journalist was detained and held in custody for one week when he returned to his native village after going into hiding as he covered anti-coup protest news in Bago in March of this year.

"I returned to Bago from Ayeyawady Region in March to cover anti-coup protest news. I had gone into hiding as the military council members gradually started noticing me. I was arrested a month and a half after returning home from hiding due to ill health," the reporter, who requested anonymity, told DMG.

He said he was handcuffed for six hours during the detention, sustaining injury to his left finger and psychological trauma under interrogation.

Reporters from Arakan State-based news outlets Western News and Narinjara went into hiding last month after junta forces attempted to find the location of the news outlets' offices in Sittwe.

Since seizing power in February, the junta has revoked the media licences of several Myanmar news outlets including Mizzima, The Voice, 7Day, DVB, Myitkyina News Journal, Thanlwin Times and more.

More than 100 journalists have been arrested since the coup and dozens are still detained under the military regime.