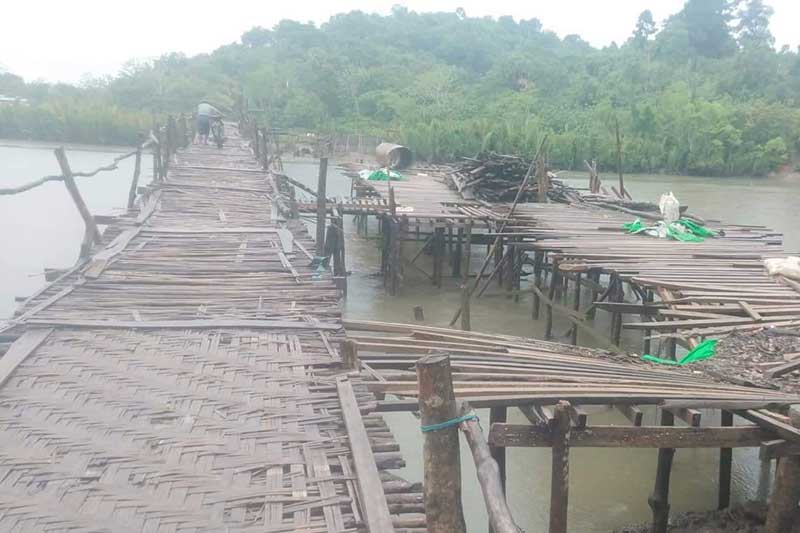 DMG Newsroom
22 June 2022, Taungup

A bridge over the Tanhlwe Creek is being constructed in Myotaung village-tract, part of Arakan State's Taungup Township, on a self-reliant basis, and donors are still needed to complete the K300 million project.

A temporary bridge made of bamboo was constructed over the creek as construction of the permanent structure is not yet finished. Locals from more than 20 villages use the bridge to access healthcare, education and economic opportunities, and for other needs.

The new bridge will be a concrete facility 350 feet in length and 16 feet wide. The bridge is about 45 percent complete, said Venerable Kawvida, abbot of the Ywama Monastery.

"We have so far spent K7 million for construction of the bridge," he added. "It is estimated that construction of the bridge will cost around K300 million. Without this bridge, people on that side, including Taunggyi village, would have a hard time getting around. That is why we are building the bridge with donations. I would like to invite donors to contribute cash to construction of the bridge."

In the past, locals had to travel by boat because there was no bridge, and it was very difficult to cross the creek during the rainy season.

There have been repeated requests for a bridge under previous governments, but with little progress, said U Thaung Nyunt, a former administrator of Myotaung village-tract.

"When I was serving as administrator, I asked township-level officials to construct a bridge. Officials from the relevant departments conducted a field survey to assess the possibility of constructing a bridge. We need donors for construction of the bridge," he added.

The administrator of Taungup Township was not immediately available for comment.

Construction of the new bridge began in March of this year, and a letter has been submitted to the chairman of the Arakan State military council, Dr. Aung Kyaw Min, asking for its completion as soon as possible. So far nothing has changed, however, according to the bridge construction team.